Anime Review Roundup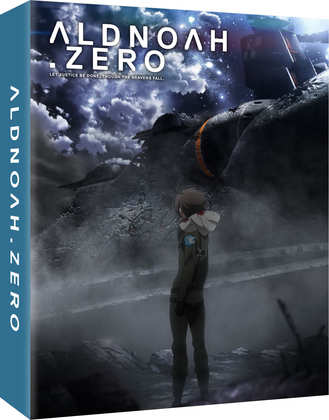 There are two types of giant robot show in the world.
Aldnoah.Zero Season 2
is one type, the eye-candy action show with not a lot going on beneath the surface. The first season had an interesting premise, a war of the worlds scenario with the Martian colony becoming independent, developing a feudal system, and then coming back to kick Mother Earth's butt... in giant robots. But the execution was lacking, with weak characters and a weaker story. But my word, it looks beautiful, with stunning animation and great action sequences. All of this is doubly true for Season 2, where the action is even better, but the story's weaker, and the characters are infuriating.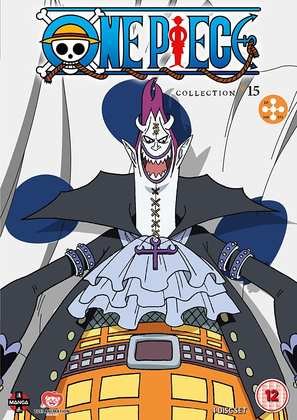 There's only one kind of pirate that you need to know about, the rubber limbed kind.
One Piece Collection 15
was next up for review, and to be honest, I wasn't expecting great things. At this point, we're in the Thriller Bark arc, the spooky, Scooby Doo storyline of One Piece, as they encounter an island overflowing with zombies. That's not my genre of choice, but once again, One Piece surprised me with just how entertaining and hilarious it can be. Click on the review to read more.
This Week I've Been Mostly Rewatching...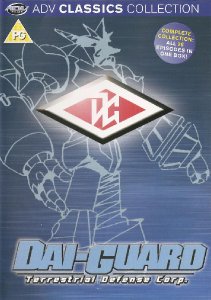 Dai Guard. This is the other kind of giant robot show, the kind with less in the way of eye-candy, but which has something going on upstairs. The premise is an interesting one. What if the giant robots that battled strange alien menaces were in the hands of the bureaucrats? Not every giant robot has to be piloted by the military or precocious teens. In Dai Guard, the eponymous robot is in the hands of a security company, and it's piloted by three salarymen. Saving the world is hard, but its filling out the paperwork afterwards that is a killer. Dai Guard is a fun, light-hearted show, which satirises Evangelion to wonderful effect. Each week an other-dimensional alien appears, and the heroes have to battle their bosses for permission before they can battle the alien menace.
Dai Guard was originally released here and in the US by ADV Films, and I picked up and
reviewed their Complete Collection
. That complete collection release and single volumes can be found second hand now, and a couple of retailers might have a few sealed copies of single volumes on their shelves. But last April, Eastern Star (a Discotek label) in the US re-released the show for Region 1, so if you can spin those discs, then importing is an option if you want Dai Guard for new.
All the Anime released Aldnoah.Zero Season 2 on Blu-ray and DVD on the 9th of January. Manga Entertainment released One Piece Collection 15 on DVD last Monday, 23rd January.