miggo Transcends the Limitations of Mobile Photography with the Launch of Pictar
Inspired by classic camera design, Pictar unleashes the true photographic power of iPhones
miggo
, which first made its worldwide debut with the innovative Strap & Wrap and Grip & Wrap protective carrying solutions for digital cameras, today unveiled its most revolutionary offering yet - Pictar. High-tech and cutting edge, Pictar is an ergonomically advanced Camera-Grip for the iPhone that brings the familiar controls of a DSLR right to users' fingertips.
https://www.kickstarter.com/projects/mymiggo/pictar-probably-the-best-iphone-camera-grip-ever-b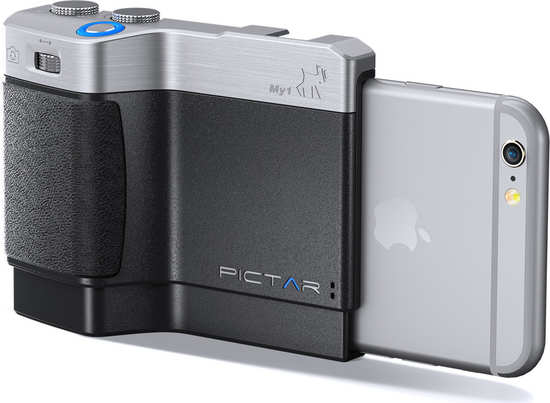 Key features of Pictar include:
Five user programmable wheels/buttons for full user control.


Ergonomic grip for one handed use.


Revolutionary communication between hardware and App via ultrasonic sounds.


Compatibility with most iPhone models (4-6s and planned support for future models).


Control over iPhone camera features not possible in the native App.


While the digital camera incorporated in each new generation of the iPhone has improved dramatically, what has stayed the same since its introduction is the way consumers hold the device and navigate its features and settings. With that in mind, when it comes to taking a photo, it's not very ergonomic and simply does not compare to the traditional experience offered by that of a dedicated DSLR. Advanced shooters welcome a DSLR's physical controls which put frequently used settings right at their fingertips - something Pictar was designed specifically to replicate. By bringing these physical controls to the iPhone, Pictar offers unprecedented control and gives users the ability to take their iPhone photography to a completely new level and transform the way they use it to take photos and video.
"As the adage goes, the best camera you have is the one you have with you," said Guy Sprukt, co-founder of miggo. "It's no secret that one of the most popular smartphones in the world is also one of the most widely used digital cameras. The image quality of the phone can rival that of some of the best digital cameras on the market. With Pictar, we're looking to give users – whether they be professionals or social shutterbugs -- the ability to DSLR their iPhone and completely unleash its full potential."
The Pictar project is the result of over a year of extensive research and development focusing on alleviating the shortcomings as it relates to the ergonomics and control of the iPhone. miggo's product design engineers devoted significant resources to developing a solution to address these shortcomings and help deliver an experience that's more natural, more comfortable, and that delivers better results.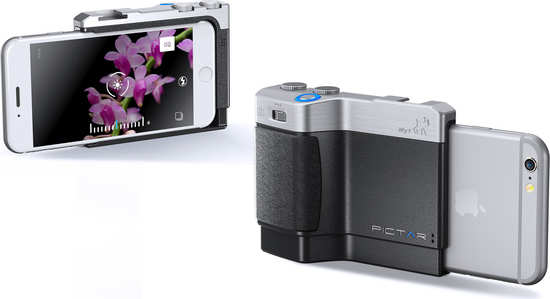 Key shortcomings addressed by Pictar include:
Poor control - while touchscreens have proven to be the method of choice for many of today's mobile devices, they simply aren't fast enough when it comes to navigating menus or accessing camera controls. Because of this, users choose to simply press capture or record i.e. take the pictures on Auto and fail to truly experience what the iPhone could offer.


Uncomfortable grip- sleek and slim, the iPhone simply does not offer users a comfortable or secure grip when using the device to capture photos or videos. Due to the way users are forced to hold the phone, it's often easily dropped or results are often not sharp enough because of an unsteady hand, especially when operating with just one hand.


Pictar features five external controls which operate key settings and includes a patented, revolutionary interface which utilizes high-frequency dual tone sound to activate and control the camera, saving significant battery power compared to standard Bluetooth connectivity. In addition, the ergonomically designed grip allows for one handed operation and sharper images.
In addition, users will also benefit from the optional hand and neck straps, which offer peace of mind, saving Pictar and the user's iPhone from damage in the event of accidental drops. Both straps feature quick release buckles which enable the user to effortlessly switch between both to suit their needs. Moreover, for safe storage, miggo also includes a stylish padded pouch. Manufactured from neoprene, the pouch will protect Pictar when not in use and can also be attached to a belt or bag for easy transport.
External controls and features include:
Multi-state shutter button - electronically calibrated to provide maximum sensitivity, just like that of a traditional DSLR. Pictar's shutter button offers a "half press" mode to lock focus and exposure for easy tracking of a moving object or to create a desired composition, as well as full-press for immediate shutter release.
Zoom ring - located right under the index finger, the rotating zoom ring alleviates the need to touch the screen to pinch-and-zoom, making it easy for the user to zoom in and out with just one hand. The zoom ring can also be programmed and changed by user to suit specific needs.Selfie button - clicking the zoom ring will switch between the iPhone's front and back camera for easy "selfie" shots. Like the rotation of the zoom ring, the button can also be programmed and changed by user to suit specific needs and control other settings.Exposure compensation wheel – located on the rear of Pictar, the exposure compensation wheel helps the user determine the exact level of exposure. Based on the user's preference, the exposure compensation wheel - like Pictar's selfie button and zoom ring - can also be programmed and changed from its default setting to control other featuresSmart wheel – customizable, the smart wheel allows users – beginners and advanced - to control a variety of functions. In default mode it changes the camera's preset modes: sports, landscape, portrait and for the more advanced users, full manual, aperture priority and more. Advanced photographers can choose to program the smart wheel to control other functions, such as manual mode, shutter speed, iso, flash modes and white balance settings.Tripod mount – for those photographers looking for added stability, for landscapes or for video recording, Pictar offers a ¼" standard tripod mount located on the bottom of the device.Cold shoe - located on top of Pictar, the integrated cold shoe will allow users to mount a variety of LED lighting accessories or mics for added creativity and control.
A powerful, dedicated app featuring patented high-frequency dual tone sound control
Pictar is designed to communicate with the iPhone via a dedicated camera app which unlocks key features inaccessible on the native app to iPhone users. Each of the physical controls found on Pictar drive a specific function or setting and does so using high-frequency dual tone sounds. Each physical control is assigned a specific tone, and with each turn of a dial, press of a button or turn of a wheel, Pictar omits a sound that – when detected by the app – generates a corresponding action. The high-frequency dual tone (18,500 – 20,000 khz) is inaudible to the human ear and significantly increases battery life when compared to Bluetooth connectivity. Using a standard CR ½ AA battery which is easily found worldwide, miggo estimates 6-8 months of use before the need to replace the power source is required.
The Kickstarter campaign is now live with an introductory price of $90 USD. Full retail availability is slated for December 2016.
Visit PICTAR Kickstarter site 
https://www.kickstarter.com/projects/mymiggo/pictar-probably-the-best-iphone-camera-grip-ever-b
miggo was founded 2013 by a group of designers with extensive experience in developing award-winning camera cases and bags, as well as a passion for bringing to market innovative concepts for carrying and supporting cameras. In just three years, miggo expanded its portfolio to include patented game-changing camera carriers, multi-functional camera and binocular straps and innovative compact tripods. These products are successfully marketed in over 30 countries around the world.
Today, with two highly-successful Kickstarter projects under the company's belt - the 2014 "Strap & Wrap" campaign and the 2015 "agua" campaign – miggo returns to Kickstarter for the third time with its sights set on the trend of mobile photography. With Pictar, the company's new state-of-the-art grip enclosure, miggo is giving consumers the ability to truly unleash the power of their iPhone camera and take their mobile photography to a completely new level. For more information please visit
www.mymiggo.com
or follow them on
Facebook
.