Anime Review Roundup
Funimation Are Coming To The UK
In the online streaming sense of the word in this case. You might remember when Funimation first started streaming anime online, the UK could partake of their streams, which I have to admit I made extensive use of at the time. Only then they realised that they didn't have the rights to stream several of the shows in their catalogue outside of the US, and disappointingly, they chose to blanket lockout the UK completely, instead of just streaming those shows that they did have UK rights to (a significant number). Since then, not a year has gone by without someone asking when Funimation would return to the UK, and receiving a "Soon, really soon" as an answer. Well, how soon is now, as last week Funimation announced big changes to their online presence, a new Funimation logo, a rebranding of their online portal to FunimationNow, and in the details, the throwaway announcement that they will be streaming to the UK again. If it's anything like their current service, that means ad supported free subtitled anime in SD resolution, a subscription subtitle HD streaming service of their full catalogue, and a premium subscription HD service for subtitle and their Broadcast dubs.
And with no little irony, the page that hosts the UK announcement was briefly viewable here, but is now geolocked! Read more about the announcement at
UK Anime Net
.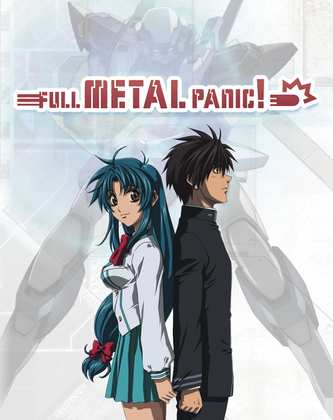 Two reviews for you last week, beginning with the
Full Metal Panic: Ultimate Edition
. The show is back in the UK after a long time out of print, and making its (upscaled) Blu-ray debut too. On top of that, The Second Raid was never released in the UK in any form prior to this. There's a lot of hype, history, and fan appreciation of Full Metal Panic, but my disdain for giant robots meant that I avoided it the first time around. This time I got to see the sci-fi action drama romance comedy, and spent a good few minutes kicking myself for missing out on the fun all those years ago. Giant robots aren't nearly as important as the characters and the story in this show, and the first series and the Second Raid offer some good old fashioned storytelling. But if it's comedy that you really want, you'll have to go a long way to find something funnier than Full Metal Panic? Fumoffu. Click on the review to read more.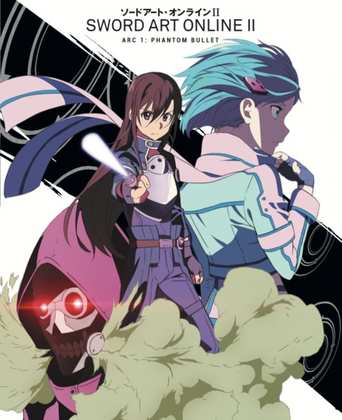 Then it was the turn of
Sword Art Online II Part 2
. The second season of this show suddenly pushed all the right buttons with me. The character writing is engaging, and the storytelling, particularly the way it is structured, appeals to me as first season never did. This Part 2 concludes the Phantom Bullet arc, which so impressed me in the first half. Unfortunately in Part 2, the story falls back on some bad Season 1 habits. It's not enough to derail the story thankfully, but it did have me worried for a while. Click on the review to see just why.
This Week I've Been Mostly Rewatching...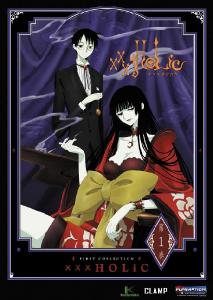 xxxHolic. I remember when the CLAMP collective was a big deal, their manga and the anime adapted from it hitting the right notes with fans. Their pointy-chinned character design aesthetic still appeals, with their work in demand for shows like Code Geass and Blood-C, but at the height of their popularity, xxxHolic and Tsubasa Reservoir Chronicle were the big titles, two manga that crossed over with each other as they unfolded, events in one story affecting the other. That didn't quite translate to the anime adaptations when they happened, with the cross-over potential limited by the fact that they were animated by different studios. And in the end, Tsubasa Reservoir Chronicle was just another generic shonen action adventure show. On the other hand xxxHolic turned out to be something special indeed, a quirky, occasionally madcap, spooky supernatural anthology show. The animators took CLAMP's designs and ran with them, turning tall, elegant characters into almost caricatures, even longer of limb than you might expect from an anime. In the best tradition of supernatural anthology anime, each episode would reveal a different aspect of Japanese mythology, some weird spirit or curse wreaking havoc. It sounds like Mushi-shi, but its characters, the playful and mysterious Yuko, her quick to freak out dogsbody Watanuki, the dour Doumeki and various others give the show a comic edge that really works well.
Anyway, here's a
review for the first collection
. Manga Entertainment released the show on DVD in two collections back in 2008, and second hand is your best bet for Region 2 at this time, although for some daft reason Amazon has them hidden away as adult content. The full series is still available from Region 1 on Funimation's S.A.V.E. budget label.
Anime Limited released Full Metal Panic: Ultimate Edition on Blu-ray back in December on the 7th. They also released Sword Art Online II Part 2 on Blu-ray DVD Collector's Edition and on DVD on December 28th.