MODECOM FreePC
A personal computer that's the size of a USB flash drive with Intel Quad Core Processor, Win 8.1 OS that can easily be carried in your pocket!
MODECOM FreePC is available to buy in the UK. MODECOM Free PC is the latest generation of mini-computer. Although it's only the size of a USB flash drive, the FreePC has all the power and performance of a normal sized PC. The MODECOM FreePC is equipped with a powerful quad-core processor power Intel Atom Bay Trail-CR Z3735F with 2GB of RAM and integrated Intel HD graphics. MODECOM FreePC runs Microsoft Windows 8.1. This new compact mini-computer is ideal for home users, commuters and office workers. Available at £129.99 inc VAT
MODECOM FreePC is a small device that makes it possible to turn your PC or monitor into a big screen Personal Computer. The combination of new generation components with stylish design and compact size creates an office tool that fits in every pocket.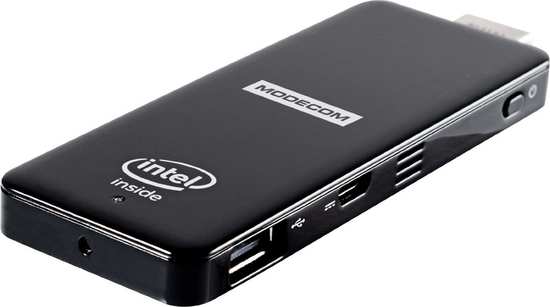 Simply plug FreePC into an available HDMI connector on your TV/monitor, connect it to a power source via USB, and in seconds you will be have access to the rich world of multimedia entertainment. With a flash disc capacity of 16Gb there is space for your favourite multimedia files (movies, photos, music), and the internal storage can be increased by using the built-in micro SD card reader with support for cards up to 32GB micro SDHC.
MODECOM FreePC is also a device for business. Featuring Bluetooth 4.0, the device is portable and can easily be connected to peripheral devices such as mice and keyboards.
FreePC Specifications
• OS: Windows 8.1
• Microsoft® Office 365™ Personal - Free one month trial
• OneDrive: 10.000 GB cloud storage
• CPU: Intel Atom Bay Trail-CR Z3735F Quad Core
• Graphics: Intel HD graphics
• Display: supports up to Full HD 1080p
• RAM: 2GB DDR3L-RS
• Storage : 16GB eMMC
• MicroSDHC: up to 64GB
• Ports:
1 x mini USB 2.0
1 x micro USB 2.0
1 x micro USB 2.0 (power)
• Wireless: WiFi
• Bluetooth: 4.0 Low Energy
• Power 5V /2A
•Dimensions x 3.8 x 1 cm
Accessories: adapter, USB cable (power/OTG), manual
Price & Availability
The MODECOM Free PC is available at £129.99 from Amazon
About MODECOM
MODECOM is one of the fastest growing new technology companies. MODECOM was established in 1999 with the aim of delivering high quality and innovative products at competitive prices to its customers. MODECOM was a pioneer in the production of PC cases with unique design and colour, and was one of the first to market with a case with front panel USB ports. Thanks to innovative ideas and high quality products, MODECOM is quickly becoming recognized as an outstanding leader in new technology. The company is continually adding to its product range which nowadays includes: speakers, mice, keyboards, network and memory devices, card readers, bags for portable computers, earphones, GPS navigation devices, tablets PC, smartphones.
http://www.modecom.eu/