MCM Comicon News and Anime Review Roundup (Updated)
It's Raining Anime, Hallelujah!"
It's that time of year again when the great and the good of the UK anime industry gather in London to sell their wares, and unveil what goodies they have lined up for us in the coming months and next few years. This year we had Anime Limited, partnering up with Sunrise and Viewster, we had MVM of course, and we had the congealed mass that is Kazé/Manga/Animatsu, and we had four panels over the weekend. I stayed glued to a Twitter feed to see just what goodies are impending, what's new and exciting in the world of UK anime.
It seems MVM don't do panels anymore. Who can blame them, when in previous years they've had their new license thunder stolen by magazines and retailer listings ahead of time? While they were at MCM, they unleashed their news direct to Twitter, including confirming that the Fate/Stay Night Unlimited Blade Works series will be coming to Collector's Edition Blu-ray and Standard DVD, with Part 1 on March 23rd 2016.
New MVM licenses comprised...
· Gate
· Monster Musume
· Hanamonogatari
MVM Update
: An eagle-eyed fan wandering over MVM's retail website Anime Online, spotted release dates for the previously licenses Hidamari Sketch Season 1 (January 4th 2016), and Kampfer Season 1 (March 7th), but also a new licence...
Oreimo Season 1 and Season 2 are scheduled for January 25th and February 1st respectively)
Also it seems that Infinite Stratos 2 has been delayed till December 14th, Maid Sama Part 1 till December 7th, Part 2 till January 18th, The Eccentric Family DVD till December 21st (Blu-ray unchanged), No Game No Life Collectors till January 11th, Standard DVD and Blu-ray till February 29th.
Jerome Mazandarani was wearing three hats this weekend, Manga, Animatsu and Kazé and new licenses were flying, although not for Manga Entertainment. Good news from Manga was that Evangelion 3.33 is now dated for March 7th 2016, and Dragon Ball Z Resurrection F has now got a date of January 25th. The bad news is that it's unlikely that they will complete the Hellsing Ultimate release, leaving us tantalisingly missing the final two episodes. Kazé Entertainment will be releasing a complete Persona 4 Collection.
Manga Update:
You might have been expecting One Piece Collection 12 yesterday, but it now seems that the next installment of One Piece has been delayed at the last minute to December 28th. In the words of the immortal Dick Dastardly, Drat, Drat, and Double Drat!
New Kazé licenses include...
· Code Geass: Akito the Exiled
· One Punch Man
New Animatsu Licenses, wait for it, wait for it...
· My Teen Romantic Comedy SNAFU
· Haikyu, Seasons 1 and 2
· Food Wars
· Is it Wrong to Try to Pick up Girls in a Dungeon?
· School-Live!
· My Love Story
· Amagi Brilliant Park
· Humanity Has Declined
· Blade Dancer of the Elementalers
That high pitched squeal you might have heard was my reaction at Humanity Has Declined.
Anime Limited a.k.a. All the Anime were doing a lot of everything this weekend, running the very successful MCM Loves Anime Theatrical Screening, hosting Viewster who were promoting their new Omakase product (ad free HD internet streaming plus regular box of anime stuff), hosting Sunrise with whom they have partnered for the UK return of Gundam, and they were doing their own stuff as well. News from them included the delay in Beck's release down to masters, so that they are now looking at the possibility of releasing it on Blu-ray, while Gundam The Origin Part 2 will be available to purchase from Anime Limited's Online Store from November 7th
New Gundam licenses from Sunrise and Anime Limited...
· Z Gundam
· Gundam ZZ
· Turn A Gundam
· Reconquista in G (re-confirmed)
New licenses from Anime Limited, and guess which one of these made me squeal ultrasonically...
· Ninja
lS[at]rey
From Animation
· Expelled From Paradise - Jan 25th
· Tokyo ESP - Feb 2016
· Melancholy of Haruhi Suzumiya Season 1 Blu-ray
· Tokyo Marble Chocolate
· Claymore on Blu-ray
· Attack On Titan Junior High
· Prison School
· The Murder Case of Hana & Alice
· Snow White with the Red Hair
· Brother's Conflict
· Selector Infected Wixoss
News filched from
UK Anime Network
's Twitter feed,
Anime News Network
, and
Anime UK News
. Visit the sites if you want to know more of the details of the MCM Comicon weekend.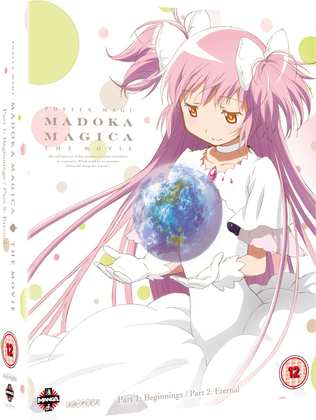 Just the one anime review for you last week, which given all the Comicon News is a relief for my typing fingers. But it was a release well worth taking the time for, as I took a look at
Puella Magi Madoka Magica The Movie: Part 1 and Part 2 - Beginnings/Eternal
. The title may have been unwieldy, but these two movies definitely aren't, as they distil the Puella Magi Madoka Magica television series into two feature films, sprucing up the animation, and reworking the audio into full theatrical surround sound in the process. What's best is that around 5 hours of television into a pair of 2-hour movies fits just like a glove, with nothing wasted, nothing missed out. Even better is that the Madoka Magica story works much better as a theatrical feature than it did as episodic television, the story flows better, and the character arcs are distinct and easier to appreciate. Click on the review to read more, or you could just save time and buy it.
This Week I've Been Mostly Rewatching...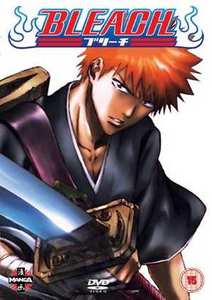 Bleach: Season 1. What else are you going to do after eight years of reviews, working your way slowly through the 16 seasons of Bleach on DVD, the four movies, some three hundred odd episodes worth? Go back to the beginning and start again of course! Surely that's obvious. It's also obvious if you've read my reviews that I wasn't a committed fan of the show by any stretch of the imagination, and there were lengthy arcs that might have had me tearing my hair out. But how much of that is down to its intermittent release schedule, the fact that I'd forgotten the beginning by the time I got to the middle, and how much of it was the actual show is a question that lingers with me, so I'm now watching it again, at my own pace, ready to drop it the minute I get bored. I won't be getting bored just yet, as while I knew that I liked Season 1, I'd forgotten just how great a show it is at this point. The premise is still simple, we're getting to know the characters, and it's a very engaging story set in Karakura Town, a great blend of action, drama and comedy (Rukia's drawings are a hoot). What's also surprising is how different the show is at this point. The character designs are unrecognisable from what they eventually became, while the premise, the elements of the show such as the Hollows, the Soul Society, and the Soul Reapers are so different from what they became, I'm beginning to suspect that his editors took Tite Kubo to one side after the opening arc and told him to make it more like Dragon Ball Z, and less, for want of a better word, entertaining. Certainly if anyone had tried to keep up the level of creativity and world building that is present in these opening episodes, they would have rapidly burned out.
Anime licenses tend to last just 5 years or so, before lapsing into out of print and deleted status. Bleach Season 1 has been out for 8 years at this point, and fortunately it's still available to buy from the usual retailer suspects. I reviewed the
first half of Season 1
here, and the
second half is also reviewed
on the site, and to be honest, I'm enjoying it more now than I did back then. Best of all, the first half of the show was released by Manga Entertainment, using Madman's DVDs masters, offering well authored and user friendly discs. That's before Kazé got their paws on the franchise...
Manga Entertainment released Puella Magi Madoka Magica The Movie: Part 1 and Part 2 - Beginnings/Eternal on twin-pack Blu-ray last week, as well as on single disc DVDs.