Anime Review Roundup
Jojo's Bizarre Adventure Comes to UK DVD
No reviews this week, but some bizarre news. Someone actually spotted a listing on Amazon for
Jojo's Bizarre Adventure Season 1 from Warners
. This fan favourite show has been a constant request on social media to companies like Manga, and if you're familiar with the OVA boom of the nineties, you'll love this spiritual successor to Fist of the North Star. Try a few episodes out on Crunchyroll if you're interested. The lack of fanfare surrounding its UK release matches the similar release it enjoyed in the US, but for a company like Warners, anime is just a drop in the ocean. At the moment Amazon are listing it as a 10 hour release on one disc, with subtitles only, but expect it to more closely match the US 3-disc release in format.
Crunchyroll Now On UK Playstations
If you do want to try Jojo's out on Crunchyroll, for the last few days, you'll have been able to do that on your Playstations. Prior to this week, Sony's proprietary Animax Channel had exclusive access to the UK Playstation Network, leaving the few enterprising Playstation owning anime fans to set up US accounts to access the world's largest anime streaming site. With Animax practically defunct at this point (except they just announced Ranpo Kitan: Game of Laplace today), Sony have finally relented and allowed Crunchyroll on Sony devices in the UK, so PS3s, PS4s, Sony Vitas and no doubt Sony Smart TVs and Blu-ray players will now let you stream Crunchyroll. Rejoice.
Incidentally, Kazé have pushed the release date of the final instalment of Bleach, Series 16 Part 2, back to 28th September. Lament...
This Week I've Been Mostly Rewatching...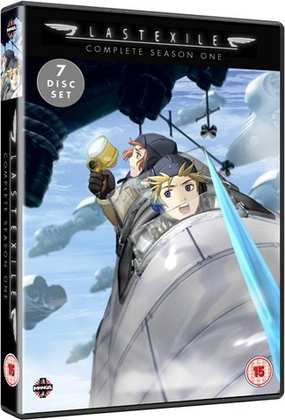 Last Exile. With all the anime that I review for the site, I've become accustomed to seeing certain tropes, certain character types again and again. Even the most revolutionary stories, the surprise hits will tend to tick certain things off a checklist to make sure that target audience preconceptions are catered for. It wasn't always like this. During the last anime bubble, creators took fantastic chances with the stories they told, the characters they presented, and Last Exile reminds me of those heady days of the early 2000s. It's a Gonzo show unlike any other, their flagship animation at the time, and it is all about story and about world-building. It's a steampunk world built around aviation, with two nations at war over dwindling resources, and an elitist guild playing both sides against the other. And into this mayhem are thrown two young courier pilots, who accept a mission to transport a precious cargo to a mercenary airship. Only that cargo is a little girl. It's storytelling, pure and simple, with characters that aren't beholden to any clichés, and a narrative that makes you work at it. It does have the flaws of a poorly written villain (as close to a cliché as it gets), and it does get a little messy for its conclusion, typical for Gonzo, but it's still more rewarding to watch than most sci-fi anime released today (except maybe Knights of Sidonia), and it's light years ahead of its sequel, Fam, The Silver Wing.
Last Exile was originally released in the UK by ADV Films across seven volumes (although it was a Geneon title in the US). I reviewed
Last Exile: The Complete Collection
, which was released just prior to ADV's demise in the UK, which collected the seven discs into a single case. When Manga licensed and released the sequel, they also license rescued the original Last Exile, and put it out again as a
Complete Season 1 Collection
, which Stuart McLean reviewed for the site, so you have the benefit of two viewpoints. That Manga release is still available for purchase if you are interested.