Full Digital Restorations of Ealing Studios classics The Magnet & Hue and Cry
Ealing's greatest comedies captured the essence of post-war Britain, both in their evocation of a land once blighted by war but now rising doggedly and optimistically again from the ashes, and in their mordant yet graceful humour. They portray a country with an antiquated class system whose crumbling conventions are being undermined by a new spirit of individual opportunism. A global byword for cinematic quality of a quintessentially British nature, Ealing Studios made more than 150 films over a three decade period. A cherished and significant part of British film history.
Both digitally restored to return them to their pristine original picture quality, THE MAGNET and HUE AND CRY will be released individually on Home Entertainment formats - a must-have for all British comedy and Ealing film fans.
The Digital Film restoration was funded by STUDIOCANAL in collaboration with the BFI's Unlocking Film Heritage programme (awarding funds from the National Lottery).
THE MAGNET (1950)
DIRECTED BY CHARLES FREND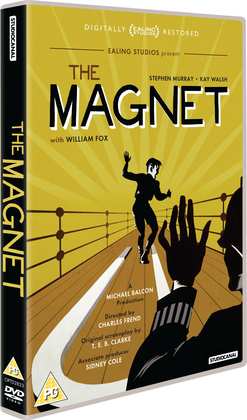 STARRING JAMES FOX (as WILLIAM FOX), STEPHEN MURRAY, KAY WALSH, THORA HIRD & GLADYS HENSON
Ten-year-old Johnny Brent (James Fox, The Servant) tricks a young boy to swap him a toy magnet for his 'invisible watch'. Troubled afterwards by his conscience, Johnny rids himself of the magnet, presenting it to a charitable fund. When news of this touching sacrifice by an unknown child appeals to the imagination of the sentimental public, the magnet is auctioned for charity and raises several hundred pounds. This leads to a search to find the donor, and when Johnny learns of this he concludes that is wanted by the police for obtaining the magnet by false pretences, prompting him to go on the run!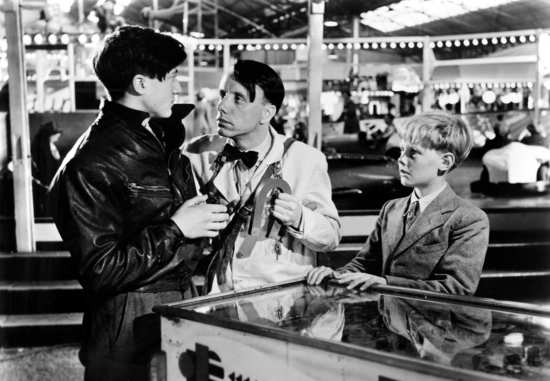 Directed by Academy Award nominee Charles Frend (Scott of the Antarctic), written by Academy Award winner T.E.B. Clarke (The Lavender Hill Mob), and co-starring Stephen Murray (A Tale of Two Cities) and Kay Walsh (Oliver Twist), THE MAGNET is an outstanding Ealing comedy that has been digitally restored to its former glory, renowned also as the first feature film appearance of James Fox.
Extras:
Introduction by Film Historian Steve Chibnall **NEW EXTRA**
Stills gallery **NEW EXTRA**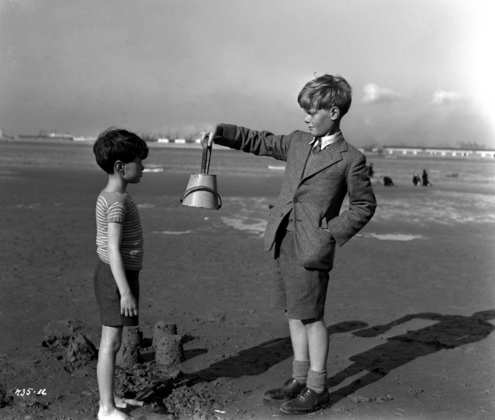 HUE AND CRY (1947)
DIRECTED BY CHARLES CRICHTON
STARRING ALASTAIR SIM, JACK WARNER, VALERIE WHITE, FREDERICK PIPER & HARRY FOWLER
HUE AND CRY is rightly acknowledged as something of a milestone in British cinema – being considered the first of the Ealing comedies – a pulsating and exuberant piece of film-making and one of the most authentic film portrayals of youthful adventure and comic book fantasy.
Joe (Harry Fowler, Went The Day Well), a London East End kid, is addicted to a boy's adventure weekly called The Trump. He begins to suspect that a series of burglaries somehow are related to the weekly storyline, that there are hidden messages in the story that tell gang members the place and time of the next store to be hit. Harry convinces the other boys in the neighbourhood and they go to the cops. When the police don't believe them, they set out on their own to stop the gang and capture the ringleader. Along the way they find themselves trying to stop a burglary in a department store, getting noticed by Jim Nightingale, a tough greengrocer (Jack Warner, The Ladykillers), kidnapping a luscious blond secretary who may know more than she lets on, and trying to deal with Felix H. Wilkinson (Alastair Sim, A Christmas Carol, The Belles of St Trinians), the eccentric writer of the The Trump's storyline, a man with a distinct dislike for small boys…
Renowned Ealing cinematographer Douglas Slocombe beautifully captures and documents a forgotten London – the Post-war bombed out city, adventurous, free-roaming children playing amongst the burnt out rubble with his evocative B&W photography
Extras:
Introduction by Film Historian Steve Chibnall **NEW EXTRA**
Location featurette **NEW EXTRA**