Anime Review Roundup
New Licenses that Made Me Go, Wahoo, Boo, and Hmmm!
We've just had a Comicon in Belfast, and it seems around the right time for some new licenses. It's also been a week of delays, with Nisekoi slipping again to July, and quite frankly I take Anime Limited's schedule with a pinch of salt; Baccano's slipped again...
My Wahoo license came from Animatsu, although it was Manga Entertainment as exclusive distributor that made the most noise about it. Who can blame them, when it's the first season of
Love, Chunibyo & Other Delusions
, one of the best series to come out of Studio KyoAni since Haruhi Suzumiya. Animatsu are promising a DVD release, and a Deluxe Blu-ray release. Given the fancy Limited Edition treatment that it got from Sentai in the US, this promises to be sweet.
My (Majin?) Boo license comes from Manga Entertainment proper, although I know I'm in the minority on this one. Think how you'd feel, if you've had to review Dragon Ball Z, the original Dragon Ball, one of the recent Dragon Ball feature films, and Dragon Ball GT as well. Although GT killed me, I could only get halfway through that. Imagine doing that, and then Manga Entertainment goes and announces
Dragon Ball Kai
on DVD and Blu-ray. Kai is the decent version of Z, with all the filler, flashbacks and recaps removed, just pure action and canon story, and really should have been released in the first place. Speaking of Blu-rays, Manga have retreated from their previous decision to cancel the Samurai Bride Blu-ray, and it's now coming out on both formats, albeit delayed till July.
And for my Hmmm releases, I have to look to Anime Limited, who
this weekend announced
that the oft-delayed
009 Re:Cyborg
movie from director Kenji Kamiyama now has a tentative July release date. They've also got
Tokyo Ghoul
's first season down for October, a show that I half saw through the black mists of broadcast censorship. They also have
Plastic Memories
pencilled in for 2016, a show which currently resides on my Crunchyroll queue, and I'm waiting for the 36-hour days that I need to fit it in and actually watch it.
News from Anime News Network and Facebook.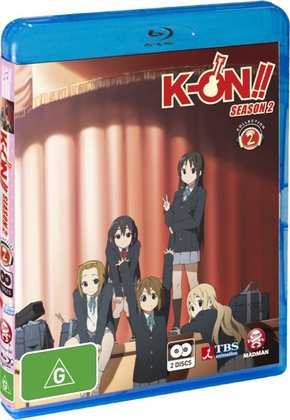 Just the one review last week, as I finished my Blu-ray upgrade adventure for the K-On! series, with a look at
K-On!! (Season 2) Collection 2
. Sentai's first shot at this series had a few issues, but thankfully most of those issues are resolved for this final half of the series. It's a good thing too, as I really do love the inconsequential adventures of the Light Music Club, just pure, unadulterated escapist fun, a comedy replete with whimsy, and some nice music too. As I say in my review, K-On!, it's sequel and the movie comprise my Desert Island Anime. I could watch this show on a loop, and in high definition it looks even better.
This Week I've Been Mostly Rewatching...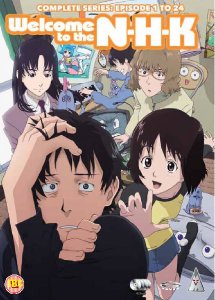 Two titles to pique your interest. First I concluded a watch through of Welcome to the N.H.K. If there is one genre that is sorely under-represented in anime, it's the character drama. Animation gives you the unbounded limits of the imagination, where anything is possible, giant robots, harems of schoolgirls, vampires, mutants, literally anything, so it becomes rare to find an anime that's down to earth, so to speak, about real people. Welcome to the N.H.K. is about just such a subject, a socially withdrawn NEET whose agoraphobia keeps him locked inside his apartment, avoiding human contact, subsisting on a diet of anime, internet porn, and video games, imprisoned by his own paranoia about conspiracies. It feeds into his anime fantasy world when a cute girl offers to help cure him, but it turns out that there's no quick fix for social withdrawal, and the girl in question has problems of her own that she's running from.
Welcome to the N.H.K. was made by Studio Gonzo, and it shows, with a couple of the episodes looking as if they were left to the work experience guys to animate. But there is no other show like it out there, and while it can cut close to the bone with its observations of fan culture and mindset, it's ultimately a rewarding watch. I initially imported the Funimation release, but in terms of video quality, the MVM UK release is actually superior in terms of colour fidelity. Here's a link to my
review of the UK release
. And Welcome to the N.H.K. is still in print, distributed by MVM.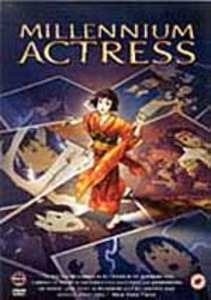 I also found the time to take in another viewing of Millennium Actress, a spectacular Satoshi Kon movie. Although each of the few films he directed in his tragically short career are absolute classics. Just like all of his films, Millennium Actress plays with perceptions and the way the viewer interacts with the film, but it's also wholly accessible in a way that films like Perfect Blue and Paprika aren't. Millennium Actress is after all a love story, or rather love stories. It is a ode to the Japanese film industry, almost a hundred years of celluloid story-telling, which itself covers a thousand years of stories, historical movies set in mediaeval Japan to future sci-fi epics, the millennium of the title. They all star one actress, inspired to act by a chance encounter with a revolutionary artist when she was a young girl, and who through her movie career has been seeking him ever since. And all of this is told in just eighty minutes.
Millennium Actress is a film that breaks my heart each time I watch it, but this time it did so doubly, with the reminder that the talent that was Satoshi Kon is no longer with us, and we probably won't see films of this quality and inventiveness again. He truly was a one-off. Here's the link to my review of the Manga Entertainment disc, which is well and truly out of print now.
Millennium Actress
really does deserve a high definition transfer, and while the quality of the film transcends such matters, the dubtitles really need to go too, for something a little tighter in translation. Still, there is still the odd new copy floating around, and second hand discs are available for reasonable prices. It is one of the best anime films ever made.
Madman Entertainment released K-On!! (Season 2) Collection 2 on Blu-ray back in 2012, and you'll have to import from Australia.