Anime Review Roundup
MVM Licence Nagi no Asukara, a.k.a. A Lull in the Sea
MVM can't cut a break when it comes to their release plans, whether it's through over-eager magazine publications, early listings on e-tail websites, or the sheer tenacity and observational faculties of eager anime fans. It was the latter at work last week, when NISA in the US revealed their mock-up of the Nagi no Asukara deluxe release. It was an exploded packshot revealing all the goodies that lie within. And someone with eagle-eyed vision managed to spot the MVM logo on the soundtrack CDs. Rather than let the speculation spiral, MVM hastened to confirm that they do indeed have A Lull in the Sea, and it's due for a summer 2015 release. Best of all, it's a mirror of the NISA deluxe release, the 26 episode show on three Blu-rays, the show's soundtrack on 2 CDs, the Hardcover Artbook, and deluxe packaging. It's a strictly limited release, just 1000 copies. This is NISA's release below...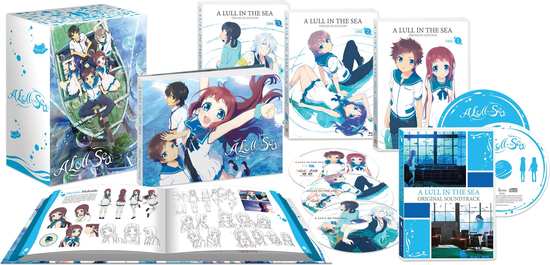 P.A. Works who made the show are renowned for their spectacular visuals, and I've reviewed NISA's Hanasaku Iroha for this site, also from the same production company. When I watched Nagi no Asukara as it was streamed, it certainly lived up to that earlier show in terms of its visuals, and the quality of its storytelling. I can't overstate just how much I am looking forward to this particular MVM release.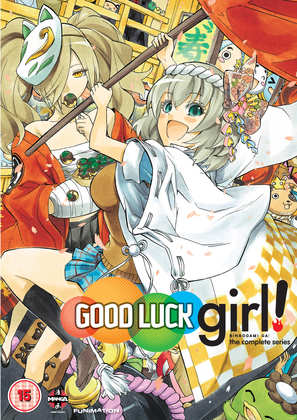 Just one review for you last week, the
Good Luck Girl! Binbogami Ga! Complete Series Collection
. It's a very likeable comedy, which sees an overly fortunate girl stricken with a poverty god to redress the balance. Momiji is there to suck out all of Ichiko's good luck and redistribute it to all the unfortunates around her. The thing is that Ichiko isn't all that co-operative, and their respective personalities make their association even more abrasive. Good Luck Girl's story certainly has more than its fair share of the usual anime clichés, but it also has a decent story beneath all the boob gags and fan service. The one problem is that this is one of those shows that was meant to be Blu-ray only, but in the end wound up as DVD only, and the authoring of the discs is a little lacking. Read more by clicking on the review.
Good Luck Girl! Binbogami Ga! Complete Series is released today on DVD only by Manga Entertainment. Today is also the day that new distributor's on the block Animatsu release their first title, the non-anime live action movie, Halo: Nightfall on Blu-ray and DVD.