Anime Review Roundup
Schedule: Skedjool or Shedjool?
It's been a week of announcements and slippages from all three major UK anime distributors, although judging by the volume and source, you'd be forgiven for thinking that the UK anime-sphere was all topsy-turvy.
It was A
ll the Anime
with the bulk of the announcements as
they set forth their Q2 schedule
.
And this is how things look to shape up this spring...
13th April: HAL [Standard Edition] (DVD, Blu-ray)
27th April: Tiger & Bunny – The Rising [Collector's Edition] (DVD+Blu-ray combi)
25th May: Kill La Kill Part 3 [Collector's Edition] (DVD, Blu-ray)
25th May: Nerima Daikon Brothers (DVD only)
8th June*: Baccano Complete Series [Collector's Edition] (Blu-ray only)
29th June: Space Dandy Season 2 [Collector's Edition] (DVD, Blu-ray)
29th June: Space Dandy Season 2 [Standard Edition] (Blu-ray only)
29th June: Space Dandy Complete Season 1 & 2 Set (DVD only)
29th June*: Gankutsuou – The Count Of Monte Cristo (DVD, Blu-ray)
*Tentative date – not final.
MVM
revealed that a couple of titles were slipping back, with Onimonogatari now set for a March 16th release, as opposed to the original February 16th release, and Infinite Stratos Season 2 now coming out three months later on June 8th. They did have a tentative date for their latest licence, with Super Sonico: The Animation now set for a June 15th release.
And finally,
Manga Entertainment
whose schedule isn't choc-a-block in the first place, belatedly mentioned that the Naruto Shippuden Boxset 20 release has been pushed back 2 weeks to the 9th of February.
All these delays and schedule shifts, along with the reviews I have already posted, indicate an uncharacteristic scarcity of anime in February. I can see just one title left that needs reviewing, and Fairy Tail Part 9 could very well be subject to delay too. Oh well, time to look to my own shelves...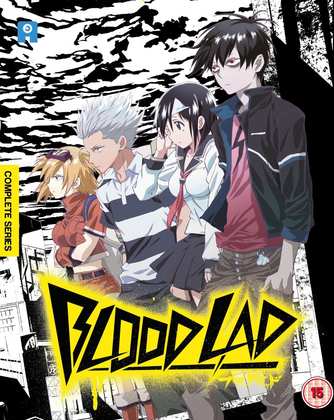 But one new February release to deal with first, as I take a look at
Blood Lad – Collector's Edition
. It's a shonen action series that's released as a complete collection, which may not compute. After all, shonen action shows are those series that go on and on for hundreds of episodes, while Blood Lad tells its story in the space of just ten, eleven if you count the OVA. Still, its tale of a human girl who unexpectedly dies in the demon world while guest of an otaku vampire offers something different from the usual ninja and pirate antics. Said otaku vampire is then compelled to go on a quest to bring her back to life, and along the way runs into all kinds of bizarre and fantastic characters. Personally I love his masked little sister, who sounds like Darth Vader! But can you actually tell a shonen story in such a short run of episodes? Click on the review to find out.
All the Anime release Blood Lad as a Blu-ray Collector's Edition, complete with 90-odd page bonus book today, along with a barebones DVD Version.