Hannspree announces the smallest computer on the market
The new PC on a Stick transforms any HDMI display into a full Windows 8 PC
Hannspree is pleased to share details of its new pocketable Micro-PC. The smallest computer in the market, the Hannspree 'PC on a Stick' transforms any HDMI compatible display into a Windows 8 PC (wireless keyboard with touchpad required); including touch screen functionality for any touch screen ready displays. The new PC on a Stick is available to buy now RRP £169.00 and will also be available as an All-in-One PC bundle with a selection of HannsG's touch screen monitors.
If you are looking for the ultimate 'mobile office' device that can perform as well as your static office PC then the new PC on a Stick from Hannspree offers no compromises to deliver a full PC computing experience in less than 10cm and 40 grams. Set up office simply in any location and be up and running in less than 2 minutes. The PC on a Stick can also be used to upgrade a large screen TV (HDMI) into a smart home media PC so you can watch full resolution HD movies and TV shows from online sources, play games or why not enjoy a photo slide show with friends and family. Of course, you could simply choose to use the PC on a Stick to replace a traditional large PC, introducing a space saving solution that also improves the look of an office desk to fit in with more modern décor.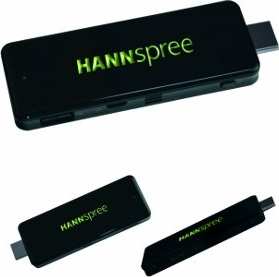 Featuring a power-efficient Quad-Core Intel Atom processor and a high speed, high bandwidth 2GB of DDR3 RAM this ultra-portable PC from Hannspree is fast and efficient delivering a responsive, no sacrificing computing experience including ultra-smooth HD video playback. The CPU also features Intel HD Graphics clocked to 311MHz, or 646MHz in burst frequency mode enabling super-fast gaming and multimedia entertainment.
Also ensuring top computing performance, the Hannspree PC on a Stick is equipped with 32GB of eMMC internal memory that allows storage of music, videos, applications, data content and much, much more. Just load it up with digital content and slip it in a pocket to take large presentation files, HD video and personal data anywhere. Thanks to this new storage format and an architecture that has been adapted to make optimum use of the Windows 8.1 operating system, the PC on a Stick achieves superb performance in memory management, meaning faster and more fluid multi-tasking.
The pocketable PC on a Stick offers external expansion via USB and a Micro-SD slot for easy add-ons and upgrades. The Micro SD expansion slot officially supports up to an additional 64GB of storage but has been successfully tested with up to a massive 128GB – around 80 full movies! It also features a built-in Hi-speed WiFi module to connect to 802.11 b/g/n wireless networks for maximum performance without wires allowing communication on the go with friends, family and the office. Bluetooth is included as standard enabling quick and easy content sharing with other Bluetooth enabled devices, no cables or Internet connections required.
The PC on a Stick will also be available as an All-in-One PC bundle package with a number of HannsG's Touch Screen displays. For example: the award winning HT231HPB. This 23" monitor has a full connectivity line up including HDMI, DVI and VGA on board so it can also be utilized to hook up to a laptop, Blu-ray player or games console. The design has been cleverly constructed to fully appreciate touch screen functionality, including a robust stand that enables the display to be used in various ergonomic positions. It also offers VESA mount support which can be used to wall mount for an eye level touch experience. The display houses internal stereo speakers completing this All-in-One package.
The PC on a Stick is available from
Dabs.com
and various online retailers now - RRP £130, supplied with a 2 year warranty as standard.
PC on a Stick (SNNPDI1B) RRP: RRP £169
http://www.hannspree.co.uk/en/computing/snnpdi1b-micro-p
Operating System: Windows 8.1
CPU: Quad Core Intel Processor up to 1.83GHz
Memory: 2GB RAM
Storage: 32GB
WiFi: Wireless LAN 802.11b/g/n
Bluetooth: 4.0
Input / Output: 1 x Micro USB, 1 x USB2.0, 1 x Micro SD Card Reader
Weight: 38 grams
2 Year Warranty
Example All-in-one-PC bundle monitor – Via HDMI (HT231HPB)
Display: 23" 10-Point Touch LED
Brightness: 250cd/m2
Contrast Ratio (typ.): 1000:1
Active Contrast: 80,000,000:1
Resolution: 1920 x 1080 (16:9)
Response Time: 5ms (typ.)
Viewing Angles: H/V 170°/160°
Inputs: VGA, HDMI, DVI (HDCP)
Dimensions (mm): 575.5 (w) x 407.7 (h) x 43.7 (d)
Multi-Video Modes: PC / Movie / Game / Eco
Certifications: Energy Star 6 / China Energy Level 1 / HDMI/ Windows8
Power Mode Indicator Light
Kensington Lock
Built-in Stereo Speakers
Tilt: -10°~60°
VESA Mounting 100 x 100mm