Anime Review Roundup
The Annual NEO Magazine Licence Announcement
Every year around this time, NEO Magazine takes a look forward to 2015, and what delights will come soon, and that inevitably means that a few previously unknown titles will be revealed. There's nothing from Anime Limited, and for a change, nothing new from Manga Entertainment either, however a couple of MVM titles were revealed,
Log Horizon
on DVD and Blu-ray next Spring, and
Muv Luv Alternative Total Apocalypse
on DVD and Blu-ray in Summer.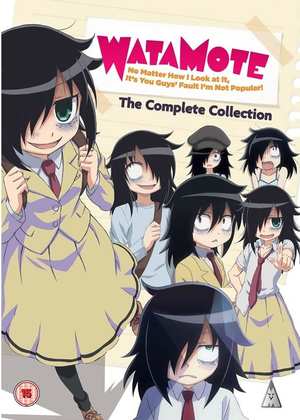 Speaking of MVM, it was their release of
Watamote: Collection
that comprised the entirety of last week's anime reviews. Watamote is a comedy that looks at the lower rung of the societal ladder, the socially awkward, geeky dropouts. In this case it's high school student Tomoko Kuroki, a girl whose interests in the otaku side of things has led to her being the odd one out in Middle School. But now she's starting high school, she's determined to become liked and popular. Unfortunately, her shyness, lack of social skills and general personality keep getting in the way. Click on the review to read more about this exceptional series.
MVM released Watamote: Collection on DVD last Monday, while the Blu-ray comes out today.