MAGIX Music Maker 2015
MAGIX Music Maker series has a wealth of features and thousands of loops and samples to satisfy every level of musical creativity. Sound optimization made easy!
With the release of
Music Maker 2015, and Music Maker 2015 Premium
MAGIX has completely redesigned its intuitive music software with new innovations including a virtual synthesizer and drum machine and Vita Sampler. Easy to understand features, thousands of loops & samples, high-quality virtual instruments and tons of effects make it possible for both beginners and more advanced users to easily create impressive songs. Thanks to the user-friendly interface and practical guides, even beginners can have fun making music with no previous experience at all. Ambitious hobby musicians, on the other hand, will find more than enough to satisfy their creative needs with the various versions of MAGIX Music Maker 2015.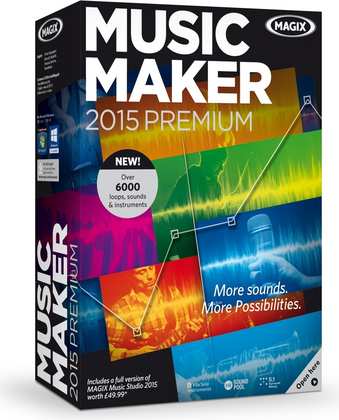 Music Maker 2015's six new Soundpools, with more than 3000 professionally produced loops and samples, provide you with an individualized sound ranging from Hip Hop and Reggae to Rock Pop, Chillout, House, and Techno. The Premium version offers four additional Soundpools with 3000 loops from the genres Drum & Bass, Metal, Funk, and Movie Score.
The virtual instruments now contain a synthesizer and a drum machine. The Analog Synths synthesizer emulates the analog sound of established hardware synthesizers and is perfect for making electronic music. The new Urban Drums drum machine, along with its extensive range of modulation options, makes complex Hip Hop and Dubstep productions possible. The Premium version contains additional virtual instruments, such as Celtic Harp, World Flutes and Jazz Drums.
Vita Sampler is another new feature of Music Maker 2015 and allows you to create your own sounds and start playing right away: simply drag audio files into the sampler – cuts and pad assignments are made automatically. You can then control the individual parts and play them like a virtual instrument.
The Vocal Tune 2 pitch correction tool features optimized functionality and control. All recordings are now displayed as wave forms, which allow you to edit and correct them in detail. Additionally, the screen keyboard has been adjusted and outfitted with a MIDI chord/arpeggio feature. This allows you to play your own chords and arpeggios even if you don't have a MIDI keyboard.
Thanks to the free Music Maker Jam app, you can now import projects from your smart phone or tablet to Music Maker 2015 and add loops & recordings.
Both versions contain the new MAGIX Music Studio 2015, worth $49.99.
Price & Availability
Music Maker 2015 SRP £59.99
Music Maker 2015 Premium £79.99
For more information please visit:
http://www.magix.com/gb/music-maker/
About MAGIX
MAGIX is a leading international provider of high-quality software, online services and digital contents for multimedia communications. Since 1993, MAGIX has been developing leading technologies for creation, editing, management and presentation of photos and graphics, videos and music. Internationally, MAGIX operates from branches in the USA, Canada, the UK, France, Italy, Spain and the Netherlands. The product range is targeted towards laymen and professionals alike and goes beyond the PC range to include seamlessly integrated online and mobile applications.
According to its retail sales figures, MAGIX leads in the multimedia software sector in Germany and the most important European markets, and is one of the most successful competitors in the USA. Fifteen years of market presence as well as one thousand awards worldwide testify to the company's power of innovation.