Sci-fi thriller Scintilla comes to DVD this August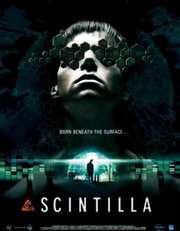 Fancy a bit of sci-fi thriller? Then
Metrodome Distribution
have your back, as they release Billy O'Brien's
Scintilla
on DVD this coming 18th August.
Starring John Lynch, Morjana Alaoui, Antonia Thomas, Craig Conway, Beth Winslet and Ned Dennehy, this has a runtime of 94 minutes and comes with a recommended retail price of £12.99.
Incidentally the film also apparnetly inspired a newly formed super-group
The Scintilla Project
, fronted by
Saxon
's own Biff Byford, who will be releasing their album
The Hybrid
, featuring songs inspired by the film, on the same date.
This is set deep underground in the wilds of a former Soviet state, where strange genetic experiments are taking place. A war weary mercenary is hired to lead a company scientist, to the secret underground laboratory. There, with his team of mercenaries, they intend to steal the research in the laboratory.
Along the way John and his companions face dangerous militia involved in a bloodthirsty civil war, strange monsters lurking in the abandoned tunnels of the old Soviet bunker and finally he meets the scientist running the genetic experiments, and her terrifying secret.