Roman Polanski: A Film Memoir arrives on DVD this June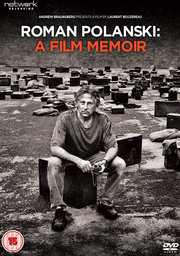 Network Distributing
have announced the release of a documentary memoir for 2nd June on DVD.
Roman Polanski: A Film Memoir
will have a runtime of 92 minutes, and carry a recommended retail price of £12.99.
Also available to download, you can get it off
iTunes
and
Curzon Home Cinema
for various lower prices depending on if its on demand or to keep.
Synopsis and trailer follow...
Recorded at his home in Gstaad, Switzerland, where he remained under house arrest for several months in 2009 and 2010, this film encompasses Polanski's childhood amid the horror of the Krakov ghetto, his first films in Poland, his move to Paris and flourishing career in Europe and America, crowned with an Oscar for The Pianist, his arrest in 1977, the tragic murder of his pregnant wife Sharon Tate, as well as his work and life today with his wife Emmanuelle Seigner.
His recollections are illustrated with excerpts from his films, news footage, press coverage, private photos and documents, all chronicling an extraordinary life marked by trauma and distinguished by astonishing creativity.
Often moving, this film is a rare glimpse into the world of Roman Polanski as he speaks in more detail about his life than he ever has before, or possibly ever will again.