Russian biopic Gagarin: First In Space comes to DVD in June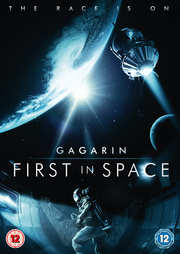 Usually we only tend to see biopics of Americans and Brits when it comes to famous achievements, and if they aren't from these countries we see a biopic made by Americans or Brits. But not today!
Entertainment One
have announced the release of the Russian made biopic about the first man to leave our atmosphere, 
Gagarin: First In Space
.
Out on DVD this coming 23rd June, this is directed by Pavel Parkhomenko and stars Yaroslav Zhalnin, Mikhail Filippov and Olga Ivanova. The recommended retail price will be £12.99.
Synopsis and trailer follow...
In 1961 Yuri Gagarin blasted off from Vostok, Russia to become the first man in space. It was a mission fraught with danger as he rocketed into unknown territory and an uncertain fate. Part of an elite squad of cosmonauts, Gagarin rose through the ranks his awe-inspiring bravery setting him apart as the best of the best.
At last the epic story of this visionary pioneer is brought to the screen in Gagarin, an awe-inspiring story of what can happen when you reach for the stars.