Samsung Unveils NX3000 SMART Camera
The new NX3000 is the latest edition to Samsung's award winning NX series of compact system cameras. Featuring state-of-the-art technical specifications and a retro design, the premium NX3000 is the perfect choice for photography enthusiasts who want a stylish camera to capture life's most important moments in stunning detail.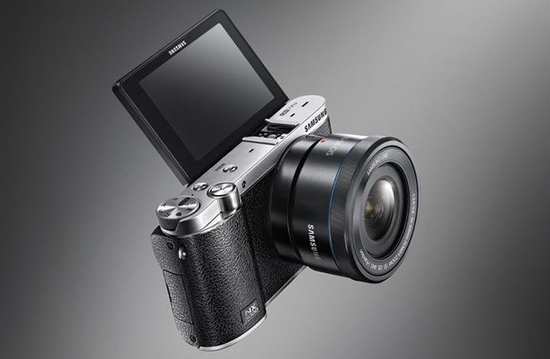 The NX3000 comes with a powerful 20.3MP APS-C CMOS Sensor, 1/4000 shutter speed and 5fps continuous shooting, allowing you to capture beautiful photos in perfect clarity, at any time from any location.
The Samsung NX3000 features a convenient 3.0-inch Flip-up Display with Wink Shot. By simply opening the screen and turning the device towards your face and winking, you can capture the perfect selfie in one hassle-free motion.
As is standard for all of Samsung's recently released SMART cameras, the NX3000 features industry-leading Tag & Go integration so you can seamlessly share images via Wi-Fi and NFC connectivity as well as take advantage of advanced features including; Photo Beam, Remote Viewfinder Pro and Mobile Link.
The NX3000 will be available in White, Black and Brown, and will feature Samsung's new compact 16-50mm F3.5-5.6 Power Zoom ED OIS Lens. This powerful yet compact, lightweight lens offers easy and convenient zoom-shooting, delivering stunning detail in every shot. Additionally, with the 16-50mm Power Zoom lens, you can control the camera's zoom function on a mobile device via Remote Viewfinder Pro, allowing you to be even more creative with your shots. Available from mid June, RRP TBC.
NX3000 Specifications
Image Sensor: 20.3 effective megapixel APS-C CMOS sensor
Display: 75.2 mm (3.0-inch) Flip-up Display, HVGA (320x480)
View finder: N/A
ISO: Auto, 100, 200, 400, 800, 1600, 3200, 6400, 12800, 25600
Image
JPEG (3:2):20.0M (5472x3648), 10.1M (3888x2592), 5.9M (2976x1984), 2.0M (1728x1152), 5.0M (2736x1824): Burst mode only
JPEG (16:9):16.9M (5472x3080), 7.8M (3712x2088), 4.9M (2944x1656), 2.1M
(1920x1080)
JPEG (1:1):13.3M (3648x3648), 7.0M (2640x2640), 4.0M (2000x2000), 1.1M (1024x1024) RAW : 20.0M (5472x3648)
RAW: SRW (ver 3.0.0)
Video
MP4 (Video: MPEG4, AVC/H.264, Audio: AAC)
1920x1080, 1920x810, 1280x720 , 640x480, 320x240(for Sharing)
Video Output :NTSC, PAL, HDMI 1.4a
Value-added Features: Tag & Go (NFC/Wi-Fi): Photo Beam, AutoShare, Remote View Finder Pro, Mobile Link
SMART Mode : Beauty Face, Best Face, Landscape, Macro, Action Freeze, Rich Tone, Waterfall, Silhouette, Sunset, Night, Firework, Light Trace, Continuous Shot, Kids, Food, Party/Indoor
External Flash: (Guide Number 8 at ISO100)
Wi-Fi Connectivity : IEEE 802.11b/g/n support (SMART Camera 3.0)
Supports: 
• AutoShare
• Auto Backup
• Remote Viewfinder Pro
• MobileLink (Group share up to 4 people)
• Photo Beam
• Samsung Link
• Home Monitor+
* Note - The availability of each service may differ by country.
NFC : Advanced Passive NFC(Wired NFC)
Bundled PC software : iLauncher, Adobe® Photoshop® Lightroom® 5
Storage : Micro SD,Micro SDHC,Micro SDXC, UHS-1 Micro SD
Battery : B740AE/B740AC/B740AU/B740AK 2330mAh
* Note - The battery specifications or model may differ by country
Dimension (WxHxD) : 117.4x65.9x39.0(26.8) mm
Weight : 230 g (without battery)
SAMSUNG 16-50mm F3.5-5.6 Power Zoom ED OIS Lens
Focal Length: 16 - 50mm
Elements in Groups: 9 elements in 8 groups (4 Aspherical lens, 1 Extra-low Dispersion lens)
Angle of View: 82.6°- 31.4°
Aperture: F3.5-5.6
Optical Image Stabiliser: Yes
Minimum Focus Distance: 0.24m(Wide), 0.28m(Tele)
Maximum Magnification: Approx.0.24X
Filter Size: 43mm
Mount Type: NX Mount
Dimension: (DxL) 64.8 x 31mm
Weight: 111g