New Film A Birder's Guide to Everything Out on DVD & Video on Demand Platforms on 19th May
New film
A Birder's Guide to Everything

starring Sir Ben Kingsley, Kodi Smit-McPhee, Katie Chang and James Le Gros out on DVD & Video on Demand platforms on 19th May, courtesy of Solo Media.


SIDEWAYS MEETS STAND BY ME IN THIS ENDEARING STORY OF
FRIENDSHIP, FAMILY & A PLACE IN BIRD WATCHING'S HISTORY BOOKS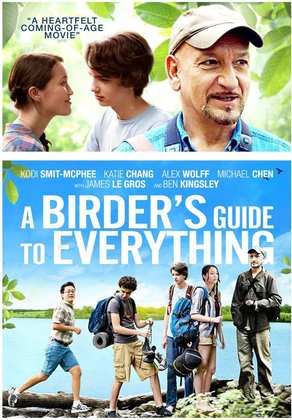 On the eve of his widower father's second wedding, fifteen-year-old birding fanatic David Portnoy (Kodi Smit-McPhee) thinks that he's made the discovery of a lifetime, the extinct Labrador duck! Now he and the two other stalwart members of the local Young Birders Society, joined by their headstrong photographer classmate Ellen (Katie Chang),take off on an epic road trip in search of the rare bird and elusive answers to teenage questions large and small.
With marvelous supporting performances by Ben Kingsley and James LeGros, A Birder's Guide to Everything is an alternately poignant and funny window into the thoughtful world of birding.
Rob Meyer delivers a sparkling feature film debut with a coming-of-age tale to warm the hearts of anyone who grew up with a nerdy passion.
Release Date: 19th May 2014
Certificate: 12tbc | Run Time: 82 mins | Genre: Coming of Age Comedy
Distributor: Solo Media
Format: DVD & VOD; iTunes, FilmFlex, Blinkbox, LoveFilm, Playstation, Xbox, Google Play