Ray Charles stars in Ballad in Blue out on DVD and Blu-ray this June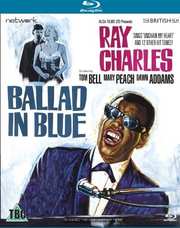 Another day, another release in
The British Film
collection from distributor
Network Distributing
. Whilst many of us remember Ray Charles' performance in classic musical comedy
The Blues Brothers
, he actually also put his musical talent on celluloid in a feature length movie as the main attraction.
Ballad in Blue
co-stars Tom Bell, Mary Peach and Dawn Addams alongside the legendary soul singer, musician and composer.
Arriving on both Blu-ray and DVD this coming 9th June, it is presented with brand new transfers from the original film elements in its as-exhibited theatrical aspect ratio. The recommended retail price will be £14.99 and £9.99 respectively.
Extras will include an image gallery and instant play facility, which we think is marketing speak for, "it starts playing automatically whilst you are in the other room making a cup of tea.
Synopsis and clip follow...
This drama is set in mid-1960s London, where, during a performance for blind children, global star Ray Charles befriends David, a young boy who has recently lost his sight, and tries to help him come to terms with his condition.
During a world tour, Charles finds himself in Paris where a surgeon is pioneering a radical procedure, and he sets out to convince David's over-protective mother to allow her son to undergo the surgery.