Richard Harris stars in This Sporting Life out on Blu-ray this June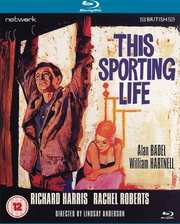 Another release from
Network Distributing
in their
The British Film
collection, out on 2nd June is the Blu-ray release of drama
This Sporting Life
, directed by Lindsay Anderson and starring Richard Harris, Rachel Roberts, Alan Badel and William Hartnel.
With a script by David Storey, this arrives sporting a brand new high definition transfer from original film elements in its theatrical aspect ratio.
Extras include promotional material and commemorative booklet by film historian David Rolinson in PDF formats, extensive promotional and behind-the-scenes shots image galleries, and original trailer. The recommended retail price will be £14.99.
Synopsis and trailer follow...
This is unflinching look at working-class life set in the bleak landscape of Northern England. Miner Frank Machin lodges with a widow, Mrs. Hammond.
His competitive nature and powerful physique cause him to join the local rugby team and, as his career progresses, so too his brutal nature distances him from those around him. Success, and perhaps a new sense of insecurity, seems to make Frank harsher and cruder.