Oscar winning The Piano comes to Blu-ray this May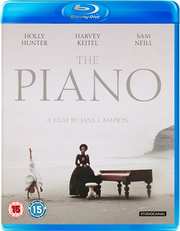 Bit of reverso world today, here is news of something which we've
recently reviewed
, the wrong way around we know but at least you can go read what David thought of it before you buy. courtesy of
StudioCanal
is
The Piano
, written and directed by Jane Campion.
Starring Holly Hunter, Harvey Keitel, Sam Neill Anna Paquin, this comes in its original aspect ratio with a 5.1 DTS HD Master soundtrack. Extras will include an interview with the director alongside producer Jan Chapman, making-of featurette, audio commentary track and trailer.
The recommended retail price for this three time Oscar winner will be £22.99.
Synopsis and trailer follow...
Ada, mute since birth, her nine year old daughter and her piano arrive to an arranged marriage in the remote bush of nineteenth century New Zealand.
Of all her belongings her husband refuses to transport the piano and it is left behind on the beach. Unable to bear its certain destruction, Ada strikes a bargain with an illiterate tattooed neighbour.

She may earn her piano back if she allows him to do certain things while she plays, one black key for every lesson.