60th Anniversary edition of classic comedy romance Hobson's Choice comes to Blu-ray and DVD this May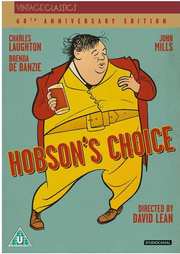 Another day, another
60th Anniversary
release from
StudioCanal
to celebrate, this time we have
Hobson's Choice
arriving on 5th May. Directed by David Lean, this stars Charles Laught, Brenda de Banzie and John Mills.
Digitally restored and featuring brand new interviews with Prunella Scales and Associate Producer and Co-Writer Norman Spencer, this comes in its original 1.37:1 aspect ratio and mono soundtrack, with a runtime of 106 minutes.
Expect a recommended retail price of £17.99 for the standard definition version and £22.99 for the hi-def release.
Synopsis and clip follow...
Henry Horatio Hobson is the owner of a well-established boot shop in nineteenth century Salford, Lancashire and the father of three daughters. The eldest, Maggie, shoulders both home and business responsibilities while Hobson whiles the time away at the local pub.
The younger sisters are both being courted by neighbours, but Hobson refuses to give the couples settlements. Maggie becomes tired of his oafish behaviour and decides to take matters into her own hands by seeking a husband.
Much to the hilarity and consternation of her father, Maggie sets her sights on shy Will Mossop, Hobson's master boot-maker. Together they set up a rival boot shop, with Maggie soon turning her mind to helping her sisters marry their chosen partners.
Norman Spencer