Fantasy romance The Last Keepers comes to DVD in April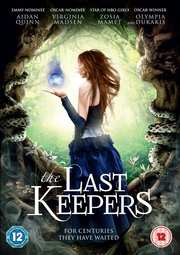 What this world needs is more fantasy love stories to rebalance itself after all the super hero action flicks and rom-coms are thrown onto the scales. Thankfully,
Metrodome Distribution
have announced one for 14th April,
The Last Keepers
arrives on DVD this day.
Starring Aidan Quinn, Virginia Madsen, Olympia Dukakis and Zosia Mamet, this has a runtime of 85 minutes, comes with a 15 certificate and a recommended retail price of £15.99.
Synopsis and trailer follow...
Rhea, a small-town teenage girl outcast from the social mainstream of high school has more to offer than the average human. As she falls in love with a unique boy at school, Rhea discovers she is one of the last living descendents of supernatural beings who own mystical powers of the elements.
Struggling to accept this at first, she soon learns the positive benefits of her family's tradition as her life changes forever in this fantasy love story.