Classic British film Gregory's Girl comes to Blu-ray and DVD this May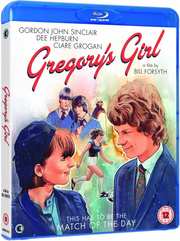 Second Sight
have announced the British comedy
Gregory's Girl
for release this coming 5th May on both Blu-ray and DVD. Directed by Bill Forsyth, this stars John Gordon-Sinclair, Dee Hepburn and Clare Grogan.
With new extras that include a commentary track with the director and Mark Kermode,
Bill Forsyth: The Early Years
interview featurette,
Gregory's Girl Memories
interview featurette with Clare Grogan, and alternative US audio soundtrack. The recommended retail price will be £15.99 for the standard definition release and £19.99 for the high def version.
Synopsis and trailer follow...
Gawky teenager Gregory Underwood, loses his place as striker in the school's shambolic football team but soon finds comfort with the arrival of new star signing Dorothy. She's ab-sol-ute-ly gorgeous. He pines to his equally girl-obsessed mates. He sets out to win her heart, but when he finally gets a dream date there's a surprise in store.