Studio Ghibli's Pom Poko gets a Blu-ray release this April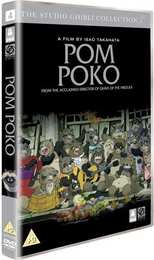 Another
Studio Ghibli
classic is coming to Blu-ray, as part of a combo release with the DVD, we love it when they do that!
StudioCanal
are releasing
Pom Poko
on 14th April, from the legendary Japanese animation film studio, directed by Isao Takahata and written by the director and Hayao Miyazaki.
Extras will include storyboards, original Japanese trailers and a
Studio Ghibli
trailer reel, whilst the recommended retail price will be around £24.99.
Synopsis and trailer follow...
As civilisation draws ever nearer to their idyllic forest home, a group of mischievous Japanese tanuki raccoons try to scare humans away. But they soon discover that man is not their only rival in the struggle for their age-old territory.
Originally released in 1994 as the Japanese economy slumped but looking back to the sixties construction boom in Tokyo's Tama Hills, Pom Poko questions the money-grabbing ethics of yuppie Japan, and mourns the loss of the countryside. Drawing on Japanese myths and legends, writer and director Isao Takahata presents a satirical view of woodland spirits using every available magical ruse to take on the modern developers: including transformations, sabotage and trickery.
Celebrated for its clever visual design and its smooth animation, it tells the ever-occurring story of age-old traditions clashing with the fast paced developments and trappings of modern society. A cult classic, this is a slapstick and-at-times gritty comedy taking a metaphorical swipe at Japanese society, restored to delight new audiences.