Jack Hill classic Pit Stop roars onto to Blu-ray and DVD this April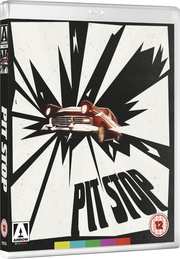 We kick this week off with what will become a bit of a theme, a combo Blu-ray and DVD release of a classic film, this one arriving on 7th April courtesy of
Arrow Films
.
Pit Stop
is written and directed by Jack Hill, and stars Richard Davalos, Sid Haig, Brian Donlevy, Ellen Burstyn and Beverly Washburn.
Arriving with a brand new high definition digital transfer in its original aspect ratio, supervised and approved by the director, this comes with a mono soundtrack, new audio commentary with the director moderated by his biographer Calum Waddell,
Crash and Burn!
making of featurette,
Drive Hard
acting featurette,
Life in the Fast Lane
producer featurette with Roger Corman,
Restoring Pit Stop
restoration featurette by Technical Supervisor James White, trailer, reversible sleeve with original and newly commissioned artwork by Jay Shaw and collector's booklet.
The recommended retail price for the combo set will be £24.99.
Synopsis and video about the restoration follow...
The most dangerous game ever devised, to pit man against man, flesh against steel, the figure-8 race!
Rick Bowman is a street punk who winds up in jail after a street race goes wrong. Bailed out by race promoter Grant Willard, Davalos is put in the deadly track where he comes up against Haig's maniacal winner Hawk Sidney. Featuring an outstanding supporting cast, Pit Stop is one of Hill's lesser known films but arguably his greatest.
Filmed on a real figure-8 track, Hill and his crew were able to capture gripping real-life car wreck scenes lending the film a brilliant sense of realism. You've never seen a motion picture like this before, can you take it?