Disney's live action drama Saving Mr Banks arrives on Blu-ray and DVD this March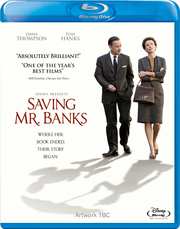 It's a classic family movie, possibly the most loved of all, and
Mary Poppins
is the subject of this new movie from
Disney Pictures
out on 24th March. Arriving on both DVD and Blu-ray is
Saving Mr Banks
, directed by John Lee Hancock and starring Tom Hanks,  Emma Thompson, Paul Giamatti, Jason Schwartzman, Bradley Whitford and Colin Farrell.
With extras including deleted scenes, and behind the scenes featurettes
The Walt Disney Studios: From Poppins to the Present
and
Let's Go Fly a Kite
, the recommended retail price will be £15.99 for the DVD release, and £21.99 for the Blu-ray.
Synopsis and trailer follow...
Walt Disney tries for twenty years to obtain the rights to legendary author, P.L. Travers' beloved books' story. Armed with artistic storyboards and effervescent songs from the musical legends, the Sherman brothers, Walt launches an all-out onslaught on P.L. Travers, but the prickly author doesn't budge.
He soon begins to watch helplessly as Travers becomes increasingly immovable and the rights begin to move further away from his grasp. But, as the books stop selling and money grows short, Travers reluctantly agrees to go to Los Angeles to hear Disney's plans for the adaptation.
It is only when he reaches into his own childhood that Walt discovers the truth about the ghosts that haunt Travers, and together they set Mary Poppins free to ultimately make one of the most endearing films in cinematic history.