Danish cult comedy Klown comes to DVD this March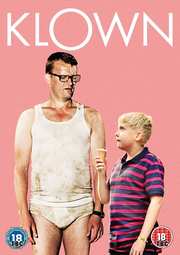 Arrow Films
have announced the release of Danish cult comedy
Klown
on DVD for 31st March. Directed by Mikkel Nørgaard, this stars Frank Hvam and Casper Christensen.
Alas no details other than these to bring you, but we suspect the recommended retail price will be £12.99. But then you probably don't need more than the price and the trailer to make you want to buy this film.
Synopsis and trailer follow...
Two wildly inappropriate friends run amok through the Danish countryside, plowing through endless awkward confrontations and unspeakable debaucheries. Hopelessly wrongheaded Frank "kidnaps" the 12-year-old nephew of his pregnant girlfriend in an eager attempt to prove his fatherhood potential, and they join sex-crazed Casper on his secret adulterous weekend canoe trip.
Rampaging through exclusive brothels, hospitalizations, armed robberies and even prison, the three paddle downstream from one chaotic misadventure to the next, all culminating in a surprisingly sentimental portrait of friendship and a final shocking reveal that you'll never be able to unsee.