Claire Denis' Bastards out on DVD and Blu-ray this April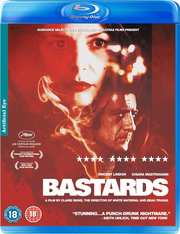 A French language film from an award winning writer and director, with an offensive title? What more could you possibly want for your weekend!
Artificial Eye
have announced the release of Claire Denis's new feature
Bastards
on DVD and Blu-ray for this coming 14th April. Starring Vincent Lindon, Chiara Mastroianni and Julie Bataille, this will arrive with a recommended retail price of £15.99 for the standard definition version and £19.99 for the high def release.
Synopsis and trailer follow...
Shipping captain Marco receives a phone call from his sister, urgently calling him back to Paris. Her husband has committed suicide, her daughter is missing and the family business has gone under. She holds her husband's business partner, Edouard Laporte, accountable and Marco sets out to expose his treachery.
But, as he begins to scratch under the surface, Marco discovers a dangerous underworld of violence, corruption and exploitation that will culminate in a final, shocking revelation.