Sean Ellis' crime thriller Metro Manila hits DVD and Blu-ray in March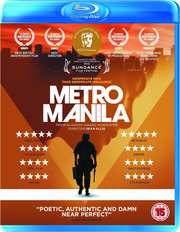 This is not your everyday news piece, oh no, and if the trailer is anything to go by this isn't your everyday crime thriller either.
Independent Distribution
have announced the release of British director Sean Ellis' foreign language film
Metro Manila
, for 10th March. Yes, you read that right.
Starring Jake Macapagal, Althea Vega and John Arcilla, this arrives on both DVD and Blu-ray, priced at £12.99 and £15.99 respectively.
Synopsis and trailer follow...
Oscar and Mai Ramirez decide to move their two daughters from the poverty-stricken rice fields of the Northern Philippines, and journey towards the capital mega city of Metro Manila. Upon arrival, Oscar and his family fall foul to various city inhabitants whose manipulative ways are a daily part of Manila survival. The intensity of the city begins to overwhelm them as Mai reluctantly takes employment in a local strip club, while the family winds up sleeping in a shack in the slum district.
A glimmer of hope appears as Oscar lands a dependable job as an armored truck driver and is befriended by his senior officer Ong. Before long it becomes apparent that Ong has been planning the arrival of someone just like Oscar for some time.