Brian De Palma's Phantom of the Paradise crashes onto Blu-ray this February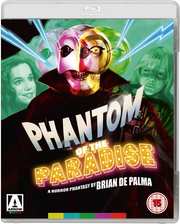 Some films just defy classification, and Brian De Palma's epic rock movie
Phantom of the Paradise
feels like one of them. Out on 24th February courtesy of
Arrow Films
is the aforementioned flick on both Blu-ray and as a Steelbook edition.
Starring Jessica Harper, William Finley and Paul Williams, this comes with a new 1080p transfer, both 4.0 DTS-HD Master Audio and stereo PCM audio, an isolated music and effects track, English SDH subtitles for the deaf and hearing impaired, reversable sleeve and booklet.
Extras will include
Paradise Regained
making-of documentary,
Guillermo Del Toro interviews Paul Williams
documentary,
The Swan Song Fiasco
video piece exploring the changes made to the film in post-production, archive interview with costume designer Rosanna Norton, William Finley on the Phantom doll, alternate takes and bloopers, trailers, radio Spots and stills gallery.
The recommended retail price will be £24.99 for the standard edition, and £29.99 for the steelbook release.
Synopsis and trailer follow...
De Palma's inspired rock 'n' roll fusion of Faust, The Phantom of the Opera and The Picture of Dorian Gray boasts an Oscar-nominated score by Paul Williams, who also stars as an evil record producer who not only steals the work of composer/performer Winslow Leach but gets him locked up in Sing Sing, and that's not the worst that happens to him along the way.
Few revenge scenarios have ever been so amply justified, but the film is also constantly aware of the satirical possibilities offered by the 1970s music industry, exemplified by Gerrit Graham's hilariously camp glam-rock star. Jessica Harper appears in her first major role as the naïve but ambitious singer, on whom Winslow secretly dotes.