Anime Review Roundup
Manga Entertainment Get Even More Social and Announce a New Licence
Last week it was announced that Manga Entertainment will be bringing us Gargantia on the Verdurous Planet sometime in the future. They did this through their new social network tentacle,
manifested through Instagram!
Animax Catch Up To The Rest and Reveal their Simulcasts
It may stretch the definition of simulcasting beyond reasonable limits, but
Animax finally revealed
what they will stream to the UK this season, and joining the continuing adventures of Aladdin in Magi Season 2, are Hamatora, Love, Chunibyo & Other Delusions! Ren, Nisekoi, and World Conquest Zvezda Plot. Three of those were on my must see list, and had me gnashing my teeth the last couple of weeks at their lack of UK availability.
What Do You Get When You Cross Andrew Lloyd-Webber With Anime?
You get the musical theatre interpretation of Hakuoki! Hakuoki is the anime franchise that MVM are bringing to us in its television and OVA incarnations this year. It's a story set in the dying days of the Shogun era, a supernatural retelling of the story of the Shinsengumi, the Shogun's secret police. The first instalment comes out in February, but if you can't wait, Internet streaming service Daisuki have put two theatrical adaptations of the story on Youtube for streaming. Two and half hours apiece of musical theatre with samurai swords! That's worth making some popcorn for. Here's
the Facebook link,
and remember to turn on the captions for English subtitles!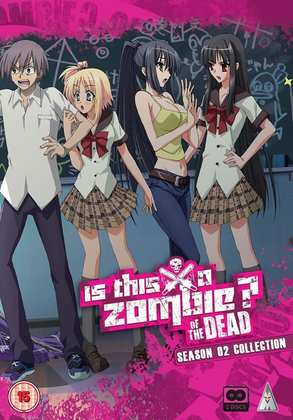 My first review last week was for
Is This A Zombie? Of The Dead: Collection
. This is the sequel to Is This A Zombie?, the horror harem comedy that last year delivered on irreverent fan service with no little heart, and with some really appealing animation. The second series offers more of the same delightful idiocy, and while it may lack a little for narrative, it more than makes up for it in comedy stakes. And it's not every show that has a harem of females, jiggling boobs, wardrobe malfunctions, and red-faced encounters, where it's actually the dead teenage boy who's actually the bit of totty!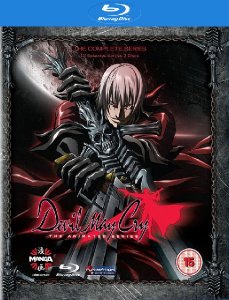 Finally I had a second look at
Devil May Cry
, this time on Blu-ray. It's more supernatural antics, but this time with a straight face, and with studio Madhouse's animation chops behind it. I was really impressed with this videogame adaptation when I first saw it on DVD, some engaging spooky stories, a nice over-arching plotline, and likeable characters. But you'll have to click on the review to see if Devil May Cry has stood the test of time well.
Is This A Zombie? Of The Dead Collection comes out today courtesy of MVM, while Manga Entertainment's release of Devil May Cry on Blu-ray was one of their first, back in 2009.