Leon: The Professional 20th Anniversary Steelbook hits Blu-ray this February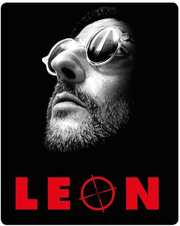 Part of us wanted to leave this for Friday as a weekend news present, but the rest of us couldn't wait. Yes lovely readers, somebody's coming up, somebody serious.
StudioCanal
have announced the steelbook release of
Leon: 20th Anniversary Special Edition
, for 3rd February.
Written and directed by Luc Besson, and starring Jean Reno, Gary Oldman, and the film debut of Natalie Portman, this thriller turns up with both the 133 minute director's and 111 minute theatrical cuts on one disc, in their original 2.35:1 aspect ratios and a 5.1 DTS HD Master Audio soundtrack.
Extras will include interviews with Reno and composer Eric Serra, the disc also includes English subtitles for the hard of hearing, and the recommended retail price will be £29.99.
Synopsis and trailer follow...
Twelve-year-old Mathilda lives within the desperate confines of a squalid New York apartment block. On returning form a shopping trip, Mathilda finds that her abusive, dysfunctional family, and her younger brother, have been slaughtered by a psychotic, drug dealing police officer.
In fear for her life she takes refuge with her reluctant, mysterious and solitary neighbour. His name is Leon and he's one of the world's deadliest assassins. And while Mathilda begins to teach him how to live, Leon begins to teach her how to kill.