olloclip Introduces the 3-IN-1 Photo Lens Solution for iPhone 5c
olloclip introduces the award-winning 3-IN-1 clip-on photo lens solution in five hot colors for iPhone® 5c owners who want to take full advantage of iPhone's 8-megapixel iSight® camera. The olloclip for iPhone 5c combines fisheye, wide-angle and macro lenses in one small, convenient package. Retailing for £59.95, the quick-connect olloclip photo lens can be mixed and matched with the new iPhone 5c and can be purchased at
http://www.olloclip.com
.

The olloclip 3-IN-1 photo lens for iPhone 5c fits into a pocket or palm of the hand, making it the ideal camera accessory to capture and share life's experiences while on the move. The olloclip makes it easy for iPhone 5c mobile photographers to enhance their shots and videos and it's compatible with all favorite apps including Instagram, Facebook and iPhone's Camera, iPhoto and iMovie built-in apps.
Features of the olloclip 3-IN-1 photo lens for iPhone 5c include:
Wide-angle lens
nearly doubles the iPhone's normal field of view.
Fisheye lens
captures approximately a 180° field-of-view.
Macro lens
applies roughly a 10X magnification on macro shots.
Panorama 360 Plus
™
feature increases the field of view, horizontally and vertically, when
using the wide-angle lens with iPhone's panorama mode. When used with the fisheye lens, it produces a 360-degree image.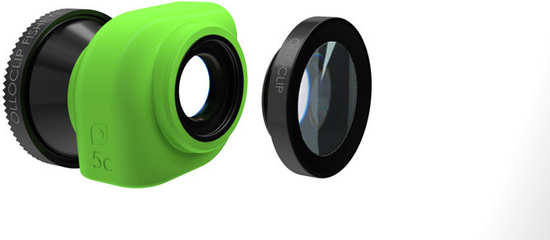 Compatibility
Can be used with all photo and video apps on the iPhone 5c.
Size
1.5"(h) x 0.98"(w) x 0.98" (d)
Weight
0.6 ounces
Colors
Choice of green, yellow, blue, pink or white olloclip with black
lenses
Made in the U.S.A. from aircraft grade aluminum and precision ground coated glass optics, the olloclip 3-IN-1 lens is half the size and weight of the average car key and offers a sleek design that perfectly complements the iPhone 5c's body contours. Yet, it is sturdy enough for outdoor enthusiasts, athletes, travelers and all amateur and pro photographers who want to use their iPhone cameras for creative shots and videos.
"The olloclip 3-IN-1 lens solution is a perfect match for users who choose the new, colorful iPhone 5c for its fun look and feel," said Patrick O'Neill, founder and president of olloclip. "We are confident they will fall in love with our company's line of simple, elegant mobile photography products, just like many of our loyal users have."
More information on the full olloclip product lineup of mobile photography tools for Apple devices, including the Telephoto + Circular Polarizing Lens (CPL), the Quick-Flip case with Pro-Photo Adapter for iPhone and iPod touch, and the olloclip Photo and Video app is available at
www.olloclip.com.