British gangster flick Essex Boys: Retribution comes to DVD and Blu-ray this December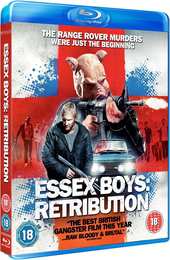 Time for a bit of British gangster fodder, courtesy of
Metrodome Distribution
. Out this coming 23rd December on DVD and Blu-ray is a film by Paul Tanter,
Essex Boys: Retribution
.
This stars Ian Virgo, Ryan Winsley, Kyle Summercorn, Alex Esmail, Paul Marlon, Martin Fisher, Kye Loren, Nalan Burgess, Vas Blackwood, Lorraine Stanley and Billy Murray.
Alas the only other details we have on this title are that it carries an 18 certificate and has a running time of 81 Minutes. Expect the recommended retail price to be around £14.99 for the HD version and £12.99 for the SD release.
Synopsis and trailer follow...
It was the most infamous gangland killing in British history, an empire of crime had ended overnight when four men were shot dead in a desolate field late at night. The killer was never caught and the story of that night would become legend.
But there were men who would never rest until justice was served, their influence reached to the very top echelons of the British underworld and their profession was murder.
This is the story of the epic retribution that followed the Range Rover murders, a revenge spree that would shake the local crime families and police force to their core. Their names will never be known, but their deeds shocked a nation.