The Poirot Collection on Blu-ray this January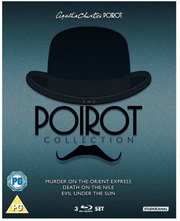 Fans of the Agatha Christie movie versions rather than TV affairs will be pleased as punch come the new year, as
StudioCanal
have announced the 20th January release of
The Poirot Collection
on Blu-ray.
Starring Peter Ustinov as the great detective in two of the features, and Albert Finney as Poirot in the other, these films also star Ingrid Bergman, Jane Birkin, Dame Maggie Smith and Diana Rigg.
With a total running time of 383 minutes, all three are presented in 1.85:1 aspect ratios with a 1080p transfer with Mono LPCM soundtracks, whilst the recommended retail price for the set will be £34.99.
Synopsis and trailers follow...
Murder on the Orient Express

is from 1974 and stars Finney as the first screen Hercule Poirot. A no-good American tycoon lies dead with twelve dagger wounds, but which of the passengers is the guilty party?
Death on the Nile

is from 1978 and sees Ustinov take up the lead. A visually sumptuous and quintessentially British production, this won an Oscar for Anthony Powell's costume design. Aboard a luxury Nile steamer a mystery assassin takes the life of an heiress.
Finally

Evil Under the Sun

is from 1982, and also sees Ustinov in the title role. A star-studded cast heads this Agatha Christie story of one man's efforts to fathom the mysterious death at a resort hotel in the Mediterranean.