Horror flick You're Next oozes on to DVD and Blu-ray in January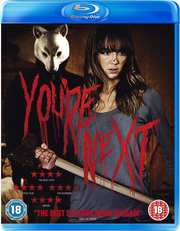 Nothing like a bit of horror news to take you into the weekend, which thanks to
Lionsgate UK
we can bring you some of! Out in the new year on 13th January is both the DVD and Blu-ray releases for
You're Next
.
Directed by Adam Wingard and written by Simon Barrett, this stars Sharni Vinson, Barbara Crampton, Joe Swanberg and Ti West. With a runtime of 91 minutes and an 18 certificate, extras will include No Ordinary Home Invasion: The Making of You're Next featurette and two commentary tracks, one with the director and cast, and the other with the director and writer.
Expect a recommended retail price of £15.99 for the standard definition release, and £19.99 for the hi-def version.
Synopsis and trailer follow...
You're Next is a chilling warning scrawled in blood on a neighbour's wall, starts an evening of bloody mayhem for the Davison family.
A lively reunion is abruptly brought to an end when a gang of mysterious killers, disguised in animal masks, wage an all-out assault on the Davison's secluded home. Using a series of sophisticated traps, axes, crossbows and machetes, the family are slaughtered one by one until nowhere is safe. But neither the attackers, nor their victims, have counted on Erin