Andrew Bujalski's retro comedy Computer Chess arrives on DVD and Blu-ray in January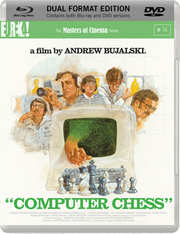 Another day, another
Masters of Cinema
announcement from
Eureka Entertainment
! This time we have the new Andrew Bujalski 80s period comedy
Computer Chess
turning up as a combo DVD and Blu-ray on 20th January next year.
Starring Wiley Wiggins, Kriss Schludermann and Tom Fletcher, this comes with optional English subtitles for the hard of hearing, two trailers,
Analog Goose
short film, exclusive video interviews with Bujalski, Wiggins and producer Alex Lipschultz, plus the obligatory 56 page booklet with a new essay by Craig Keller, a discussion on retro gaming with Wiley, a profile on cover artist and original Atari 2600 packaging artist Cliff Spohn.
The recommended retail price for the dual disc set will be £17.99.
Synopsis and trailer follow...
A boldly intelligent ensemble comedy with a feel and atmosphere that surpass easy comparison, this takes place in the early-1980s over the course of a weekend conference where a group of obsessive software programmers have convened to pit their latest refinements in machine-chess and the still-developing field of artificial intelligence against an assembly of human chess masters.
Computer Chess is a portrait not only of the crazy and surreal relationships that come to pass between the abundance of characters who participate in the weekend event, but of the very era of early computing itself, and of the first, rudimentary video games, and if that weren't enough, of the hopes and insecurities that persisted through the film's retro digital age into the present-day.
That semi-virtual, hyper-social, maybe-kind-of-dehumanised landscape that, let's face it, is our very own era. If that still weren't enough... it's also one of the wittiest, most shift-and-cringe-in-your-seat, and entirely LOL-hilarious movies of recent times.