Comedy western Lust in the Dust yee-hars onto DVD this December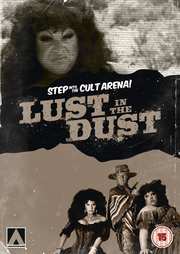 Arrow Films
have announced a new release for their
ArrowDrome
label, the comedy western
Lust in the Dust
, from director Paul Bartel. This stars Tab Hunter, Divine, Lainie Kazan, Henry Silva, Cesar Romero, Geoffrey Lewis and Courtney Gains.
Out on DVD this coming 16th December the video is presented in it's original 1.85:1 aspect ratio with a Dolby Stereo soundtrack, the runtime is 84 minutes whilst the recommended retail price will be £12.99. Extras will include a trailer, whilst the package also has a booklet by Michael Brooke and a reversible sleeve.
Synopsis and trailer follow...
The sun beats down hard on the town of Chili Verde, New Mexico – where temperatures flare and passions reach boiling in the midday heat. The locals spend their days downing Tequila and breaking bottles over heads, and that's just the womenfolk.
When Abel Wood, an enigmatic lone cowboy type, comes riding into town, the locals immediately suspect that he has come in search of the legendary buried gold. Quick on the draw and tall in the saddle he may be, but Abel faces stiff competition if he's to get his hands on the prized booty.