The Broken Circle Breakdown arrives on DVD this November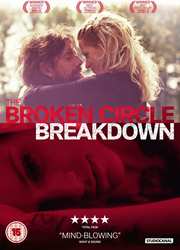 For the weekend we leave you with news of a
StudioCanal
drama release for 25th November.
The Broken Circle Breakdown
is written by and based on the play by Johan Heldenbergh and Carl Joss. It stars Johan alongside Veerle Baetens, and is directed by Felix Van Groeningen.
Arriving in its original 2.35:1 aspect ratio with both 5.1 Dolby Digital and Dolby Stereo soundtracks, this comes in its original Flemish language with English subtitles, has extras that include a trailer, a runtime of 107 minutes and a recommended retail price of £19.99.
Synopsis and trailer follow...
Elise and Didier strike up a passionate and intense relationship, it's love at first sight. They become even closer through their bluegrass band, and then unexpectedly experience the joy of parenthood with the arrival of Maybelle. A complete circle of happiness for this unconventional couple.
But sadness and sorrow ensue and take their toll, Didier and Elise begin to respond in different ways. Can love conquer fate? Not always, but the fantastic bluegrass soundtrack will carry viewers through this very personal drama.