Aidan Gillen stars in Mister John out on DVD this January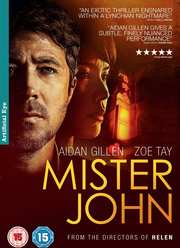 Everyone needs something to look forward to, but if Christmas isn't it for you then perhaps an
Artificial Eye
release coming out on 13th January next year might do it for you?
Mister John
is described as a brooding, beguiling and Lynchian exploration of identity, desire and the lure of the exotic, and is directed by Christine Molloy and Joe Lawler, with performances from Aidan Gillen and Zoe Tay.
With a runtime of 92 Minutes and a 15 certificate, extras will include an interview with the directors and a trailer, whilst the recommended retail price will be £15.99.
Synopsis and trailer follow...
Following the mysterious death of his brother, middle-aged Gerry travels to Singapore to help arrange the funeral and put business affairs in order. There he discovers an intoxicating world, far removed from his troubled life in London. But as he is drawn towards his brother's beautiful wife and the sexual frankness of the local culture he begins to realise that escape isn't as easy as it seems.