Low Winter Sun - the antidote to your "end of Breaking Bad" blues?
Last weekend, arguably the most talked-about television series of the past five years finished.
Breaking Bad
aired in the US on Sunday, swiftly followed by its UK premiere on Netflix on Monday.
It proved to be extremley addictive watching and now it has finished where do we get our next fix…?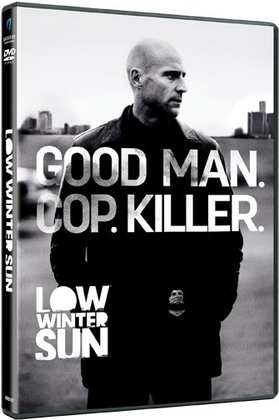 LOW WINTER SUN
from AMC (the producers of
Breaking Bad
and Mad Men)
is out on DVD and Blu-ray on the
28
th
October
.
AMC's highly anticipated new drama series
Low Winter Sun
stars
Mark Strong
(
Sherlock Holmes,
Zero Dark Thirty
, Tinker Tailor Soldier Spy
) and Lennie James (The Walking Dead,
Snatch, Colombiana
). Based on the 2006 award-winning British two-part mini-series of the same name, written by Simon Donald and produced by Tiger Aspect Productions (an Endemol Company),
Low Winter Sun
is a contemporary story of murder, deception, revenge and corruption in a world where the line between cops and criminals is blurred.
Low Winter Sun
begins with the murder of a cop by a fellow Detroit detective, Frank Agnew (Strong). Seemingly the perfect crime, in reality the murder activates forces that will forever alter the detective's life, and pull him into the heart of the Detroit underworld. Filmed on location in Detroit, this gritty and provocative crime drama explores the city's many contradictions, from its physical and spiritual decay to its survivors' resilience.
LOW WINTER SUN IS OUT ON DVD AND BLU RAY ON THE 28
th
OCTOBER
.