PCTV Systems launches AndroiDTV 78E for live Freeview viewing for Android smartphones, tablets and Windows PCs
AndroiDTV 78E from PCTV Systems allows you to watch, record and replay Freeview programmes from your Android device. This is all possible without using up your Internet data usage. Just download the FREE PCTV application from the Google store, connect the AndroiDTV to your Android device and attach the antenna supplied and you are ready to watch and record Freeview TV directly on your Android smartphone or tablet.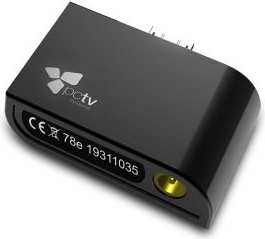 AndroiDTV is super small and lightweight gadget that uses the latest technology allowing fast DVB-T channel scanning requiring very little consumption to run. Two DVB-T aerials are supplied for optimised reception. An ultra-compact telescopic aerial is used for mobiles and a mini rod aerial is available for more difficult reception conditions. You can also connect the AndroiDTV to your PC and watch television on your Windows PC or laptop using the supplied free software.
The system supports Android devices with a minimum 1 Ghz Dual Core processor, Neon support (e.g. NVIDIA Tegra 3), a USB Host function and Android 4.0.3. ("Ice Cream Sandwich") or higher. These include: HTC One X, Nexus 7 tablet, Nexus 10 tablet, Samsung Galaxy Nexus, Samsung Galaxy Tab 2, Samsung S2 and Samsung S3. A detailed list of compatible devices can be found on the
PCTV website
. AndroiDTV currently retails for £49.99 and it is available at Maplin and Amazon.