My Amityville Horror documentary comes to DVD in October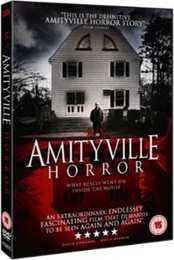 This announcement from
Arrow Films
leaves us with an ethical dilemma, but as those go it's not quite up there with Christopher Walken's in
The Dead Zone
. So we'll plough on and add a bit at the end to make us sleep at night.
The documentary
My Amityville Horror
is arriving on DVD this 28th October, featuring a now very grown up Daniel Lutz, who was 10 when his family allegedly experienced all the spooky goings on all those years ago.
Clearly aimed at the halloween crowd who want something a little less 5.1 surroundy for their evening's entertainment, this turns up with a recommended retail price of around £12.99.
Synopsis, trailer, and an appropriate link to Snopes with a quote about how it was all made up, follows...
This engaging documentary also features Daniel Lutz meeting famed demonologist & clairvoyant Lorraine Warren, who, alongside her late-husband Ed, visited the infamous Amityville house after the Lutz family fled in 1975.
Ed and Lorraine, who were most recently featured in the horror-smash hit The Conjuring, are seen throughout the documentary in rare photographs examining the house. Lorraine, now 86, also stars in the movie and is featured meeting Daniel Lutz in as they discuss the infamous house and her recollections of it.
At The Conjuring press junket in San Francisco recently, Lorraine Warren was asked how the 1971 case of the Perron family in Harrisville, Rhode Island, which inspired The Conjuring, compares with the horror that the Lutz family experienced in Amityville, New York back in the mid '70s.
Warren laughed, as if there is no comparison at all. "Amityville was horrible. It was absolutely horrible," she said. "I don't even like to talk about it. I will never go in the Amityville house ever again. You know how long my career is and that's the only one."
Warren's career is indeed long and she and her husband investigated well over 4,000 cases in their time. So when Warren says that the Amityville house is the one haunted house she won't return to, it's apparent that something terrifying went down there.
Actually from the trailer, far more than the press release, this might be a more balanced look at whether this really happened than expected, but just in case it's not, take a quick visit to
Snopes.com
where they declare the whole thing to have been made up over a glass of wine.