Incomedia WebSite X5 version 10
No programming skills required! Create your very own sites, blogs and online stores using a fully-visual and intuitive interface. Choose your template, then drag and drop your text, image, video, gallery, widget or e-mail form object into the grid to create the content. Publish your website online with the built-in FTP engine.
Incomedia officially announces the availability in the UK of WebSite X5 version 10, the latest version of its popular award-winning web editor.
With Incomedia WebSite X5 no programming skills are required: all you need is a mouse! You don't have to spend time learning to use complicated software: all you have to do is follow the 5 easy steps to create top quality websites. Each step has been designed to help you obtain professional results with the minimum effort.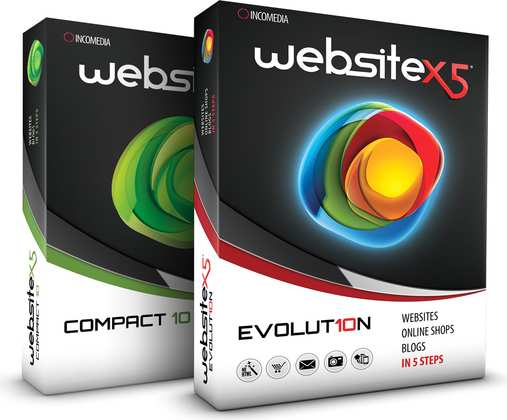 WebSite X5 – The 5 Easy Steps
1. Choose a design from the 1,500 templates available, or create a new one from scratch.
2. Create the site's structure, adding all the pages you want.
3. Add your contents: text, pictures, videos, photo galleries, maps, social network buttons or any other type of object.
4. Make your pages unique and professional, thanks to the many advanced features: online stores, blogs, RSS feeds, members' areas, multi-language sites, etc...
5. And lastly, get your website online using the built-in FTP engine.
You are free to sign up with the web provider you prefer, however WebSite X5 also includes registration of your own domain name and 30 GB of web space for 12 months, at no extra cost.
WebSite X5 version 10 is available in 2 versions: Compact 10 and Evolution 10
WebSite X5 Compact 10
WebSite X5 Compact 10 is the outstanding tool that helps turn your website dreams into reality. It provides you with 500 pre-defined templates, all professional quality and ready to use.
You can add new pages to your site whenever you want, and organize your website map according to your needs. The automatic SiteMap generator makes your website easy to use for visitors and easy for Internet search engines to find. WebSite X5 provides a unique way of creating website pages: all you have to do is drag and drop text, images, videos, sound and Flash™ animations into the various pages to create an interesting, eye-catching project.
With WebSite X5 Compact 10 you have everything at your fingertips: text editor, photo editor, functions for creating spectacular Galleries, support for importing videos from YouTube™ and much more. In addition, you can complete your project with a stunning blog that can be customized and updated as required, new posts can be published regularly.
WebSite X5 Compact 10 will automatically generate your page code in order to ensure full compatibility with all browsers and mobile devices, including iPhones® and iPads®. The final step is to use the FTP Engine which makes it child's play to publish your website online.
Main Features
More than 500 customizable graphic templates
Photo editor to customize your images
Create stunning picture galleries
Import videos (including YouTube™), Sounds and Flash™ Animations
Blog with Podcast and Videocast
Editor for creating buttons
FTP engine for publishing your website
WebSite X5 Evolution 10
With the new version 10, WebSite X5 Evolution, has reached a higher level of maturity, thanks to the improvement of existing features and the addition of new tools. Cornerstone of the new WebSite X5 Evolution 10 is its 5-step structure, a quality that characterizes the program and from which it derives its great adaptability to different user profiles, including those who do not have any knowledge of programming and web design.
Main Features
Thanks to an even more extended use of HTML5, the sites created with WebSite X5 Evolution 10 ensure full compatibility, adapting to any kind of device, operating system or browser navigation of the latest generation. Both the code of the pages, and also that of the templates are now optimized for a perfect visualization and navigation on mobile devices.
A specific Mobile Template Pack has been introduced for the creation of Mobile Sites. Now with WebSite X5 Evolution 10, it is no longer necessary to duplicate the sites in order to obtain a mobile version: once a site has been made, it can be visualized both on Tablets and Smartphones, and everything will work perfectly, including the e-commerce shopping cart, the buttons and boxes for the Social App, etc.
Touch Technology is supported on mobile devices, which means you can use your finger to browse or enlarge pictures.
The e-commerce cart is now even more powerful with interesting new additions to product catalogue and purchase management.
The importance of social networks has also been taken into consideration, introducing the "Social Object" so that buttons and boxes for Facebook, Google+, Twitter or Pinterest Apps can easily be activated.
Availability and Pricing
Incomedia WebSite X5 Compact 10 is available at MSRP £33.99 inc and WebSite X5 Evolution 10 at MSRP £59.99 inc from Amazon or
http://www.websitex5.com/en/store.html
About Incomedia
Incomedia, founded in 1998, is a leading independent developer and publisher of multimedia software for the PC.
Incomedia's flagship product WebSite X5, currently sold in over 40 countries through a well-established network of International distributors, resellers and retailers, was developed with the aim of bringing high-end website creation software at affordable prices to home, business and education users. The software is designed specifically for users who want to publish high-quality websites and online shops, with a professional look and feel in just 5 simple steps.
http://www.incomedia.eu/en/index.html