Morecambe and Wise: The Christmas Specials hit DVD this October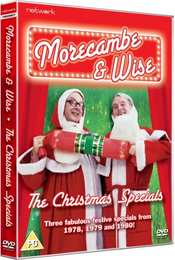 Comedy is not what it used to be, no it's different, but classic comedy is still funny, and the Eric Morecambe/Ernie Wise partnership has stood the test of time more than most.
Network Video
know this, and are kindly bringing us
Morecambe and Wise: The Christmas Specials
on DVD this 7th October.
Covering the 1978, 1979 and 1980s, it is presented in it's original full frame, has a runtime of 168 minutes and a recommended retail price of £9.99.
Synopsis and clip follow...
Families across the country gathered around the box for these legendary shows, as much a part of Christmas Day as the Queen's speech and the after-dinner nap, with Eric and Ernie aided by an array of guest stars, including David Frost, Hannah Gordon, Glenda Jackson, Leonard Rossiter, Frank Finlay, Peter Barkworth, Des O'Connor and Alec Guinness.
Now you can relive those magical moments with this first volume, comprising three shows screened on Christmas Day in 1978, 1979 and 1980. Bursting with botched song and dance numbers, mangled classics, bad puns and short fat hairy legs, these ratings record-breakers show why Morecambe and Wise remain the nation's favourite comedy duo!