Gemma Arterton stars in British vampire ride Byzantium out this September on DVD and Blu-ray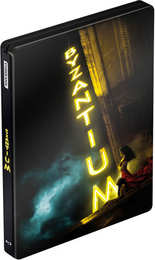 Another day, another horror release, but this one falls under the vampire category, making it an erotic fantasy horror, oh and it's British too so should avoid at least some of the predictable pit falls of the genre.
StudioCanal
have announced the release of
Byzantium
on DVD and Blu-ray for 23rd September. With runtimes of 113 and 118 minutes respectively, expect recommended retail prices of £12.99 and £15.99. Also available for even more of your cash is a steelbook release that is initially exclusive to
Zavvi
.
This stars Gemma Arterton, Saoirse Ronan, Barry Cassin, Sam Riley, David Heap, Warren Brown, Daniels Mays, Ruby Snape, Thure Lindhardt, Jenny Kavanagh, Glenn Doherty, Edyta Budnik, Gabriela Marcinkova, Caleb Landry Jones and Uri Gavriel.
Extras will include interviews with Arterton, Ronan and Jordan, a Frightfest cast and crew Q&A, plus the almost obligatory trailer. Talking of which...
Synopsis and trailer follow...
Upon the wind swept shores of a desolate coastal town stands the Byzantium guesthouse. After years of being abandoned, its doors are about to be opened again by the predatory and seductive Clara, who plans on turning the hotel into a brothel, and her young and introverted daughter Eleanor.
But these mysterious women have a dark secret that goes back 200 years and is about to reach its ungodly and deathly climax.