Mischa Barton stars in Into the Dark out on DVD this August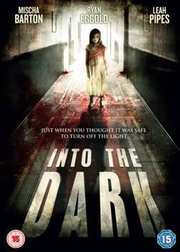 Metrodome Distribution
have quietly announced the release of a new horror flick for 19th August. When we say quietly, we mean a small press release, not much press and very little in the way of details, oh and DVD only as far as we can tell.
Into the Dark
stars Mischa Barton, Ryan Eggold and Leah Pipes. No details on extras, so expect none and not be disappointed. Also all we can do is guess at the recommended retail price, our guess is £12.99.
Synopsis and trailer follow...
Sophia has been lost since the recent death of her parents but is reawakened by an unexpected romance with the handsome, Adam. But when Adam mysteriously disappears into the depths of a dilapidated high-rise, she vows to pursue him, even if it means walking over the threshold into the realm of death.