Sirk's penultimate American feature A Time to Love and a Time to Die hits Blu-ray in September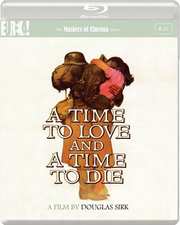 Eureka Entertainment
have announced another Blu-ray release in their
Masters of Cinema
series, this time from the master of the Hollywood melodrama, Douglas Sirk.
A Time to Love and a Time to Die
sees the director turn back to his native Germany at the time of the Second World War for the film that would stand as his penultimate American feature.
Starring John Gavin and Liselotte Pulver, this 1958 film has a brand new 1080p transfer in its original 2.35:1 aspect ratio and English subtitles for the hearing impaired. Extras will include an isolated music and effects audio track, plus
Of Tears and Speed: According to Jean-Luc Godard
12-minute, visually annotated recitation of Jean-Luc Godard's seminal essay on Sirk's film.
Also on the disc will be a 19-minute video interview with Wesley Strick, who wrote a novel based upon Sirk's life in Hollywood and his relationship with the estranged son who took a starring role in Hitler Youth propaganda.
Oh and
Imitation of Life: A Portrait of Douglas Sirk
documentary, trailer and 36-page booklet containing the complete text of Jean-Luc Godard's essay, writings from critic Tag Gallagher, and an assemblage of notes that includes excerpts from Sirk's reflections upon the film, remarks upon visual motifs inside the movie, the CinemaScope process used to photograph the picture, and more.
The recommended retail price will be £19.99.
Synopsis and trailer follow...
Ernst Gräber is a soldier on the Russian-German Front in 1944 venturing home to Hamburg on a rare furlough. Upon arrival, he discovers a city that bears little resemblance to the one he left behind.
Aand so, through the rubble of the air-raids, he searches desperately for fragments of his family's shattered lives. But amid the shards, he falls in love with Elisabeth, the charming daughter of his parents' doctor, and thus activates a magnetism that compels both individuals toward one another in love, even as it hurtles them headlong into epochal death.
A CinemaScope production staged on a grand scale, Sirk's picture nevertheless pulsates with an intimacy that has known longing for too long, and seethes with the repression of emotions poised to explode like bombs.