Haunting thriller Bag of Bones creeps onto DVD in August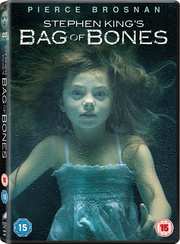 Fan of haunting thrillers with a spooky element? Well
Sony Pictures Home Entertainment
have one for you, based on no less than a novel by Stephen King.
Out on DVD this coming 19th August is
Bag of Bones
, starring Pierce Brosnan, Annabeth Gish, Anika Noni Rose, Jason Priestly and William Schallert.
Alas not much in the way of extras here, if any at all, probably because it was originally aired as a two part mini-series on the
A&E
network in the states and
Channel 5
in the UK last year, but expect it to have a recommended retail price of around £11.99 for the 156 minute runtime.
Synopsis and trailer follow...
Mike Noonan is a novelist who suffers from writer's block after the death of his wife, Jo. A dream inspires him to return to the couple's lakeside retreat hoping to find answers about his wife's sudden death.
But he is plagued by ever-escalating nightmares and mysterious ghostly visitations from Sara Tidwell, a blues singer whose spirit lingers in the house. As the inhabitants of Dark Score Lake haunt him, Mike comes to realise that his late wife still has something to tell him.